Martin Kobald is not your run of the mill professional chef. He has spread himself into various roles in the South African culinary world. In 1988 he immigrated to SA from Austria, where he was recruited as a Chef de Partie for the Southern Sun. In 1995 his entrepreneurial dream was realised when he established an Austrian delicatessen, Kobald's Catering. Based on the success of this initiative, he then bought the picturesque 33 High Street Restaurant & Bar, where for the next five years, Kobald delighted Gauteng restaurant-goers with his traditional Austrian and international fare.
In addition to this, Kobald has accepted the new title of National Corporate Executive Chef for Royal Mnandi on a consultative basis; allowing for further scope and development of his own personal brand, MLK Food and Beverage Consulting.Kobald currently is the convenor of the Bidvest-World Chefs Tour Against Hunger with over 260 Chefs from over 45 countries raised over 8 million Rand with translates in being able to feed over 500 children everyday over 5 years. The total rand value for media awareness raised nationally and globally reaches far beyond 30 million and still counting.
He also recently became the face of Salton & Salton Elite Appliances South Africa and Salton Bite TV, WEBER South Africa & Roast n' Grind – Gourmet Coffee Roasters. He is also involved in the production of the TV show Bring and Braai on Kyknet where Martin is one of the Judges. 
I Am Driven By | My passion and love for what I do drives me every day to better myself, my employees and students, whether in a personal manner or professional.
My Highlights | In my life my highlights would be my children, to see both my children continue in the hospitality industry, my son as a Sommelier and daughter as a pastry chef. In my career being convener of World Chefs Tour Against Hunger, raising money and awareness for the starving children of South Africa. As well as opening up my school ChefMLK School of Cooking to which I can pass down my knowledge and mould the future generation of chefs.
Difference Between Good and Great | I believe it's a personal choice to be great at what you do, you need to be determined, passionate and willing to put in the time be succeed.
A Key Talent | Determination, I have always been determined to not only reach my goals but excel in everything I do. I wake up in the morning and am determined to push myself and staff. Determination can take you from the bottom to the top.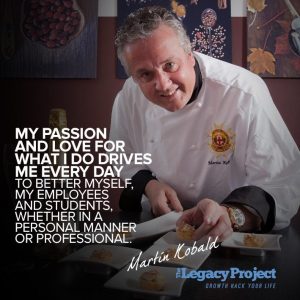 Lessons I Have Learnt | Life s to short to have a bad day! Some days may be harder than others however you pick your head up and make the next day better.
Dealing With Doubt | I embrace fear and negativity. Even in the darkest day or hardship I have to look fear in the face and learn from the good, bad and ugly.
Performing At My Peak | I surround myself with the best team and I am inspired by my students to be the best.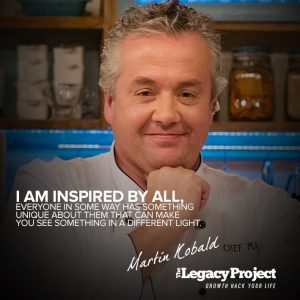 On Inspiring Others | I try to make the work environment fun and positive, I surround myself with people who want to excel in their career, they don't believe that it is just a job! With that mindset and goal is possible.
Resources I Use To Stay Inspired | I am inspired my all, everyone in some way has something unique about them that can make you see something in a different light.