One of the world's leading executive educators, coaches, and authors. He is a pioneer in helping successful leaders achieve positive, lasting change in behaviour. His success is built upon a very practical, no-nonsense approach to leadership. His clients have included over 150 major CEOs.
My Definition of Success | To me, success can be defined by the process of simultaneously experiencing meaning and happiness.  People who find happiness without meaning are 'amusing themselves to death' and end up feeling empty.  People who find meaning without happiness are often miserable and end up feeling like martyrs.  People who find both happiness and meaning love what they are doing and believe that it makes a real difference.
I Am Driven By | I love my work and find it meaningful.  I have no plans to ever retire.  Why should I?
My Highlights | At my age, my goals are simple.  I want to help the people that I meet have a little better life – and help these people help the people around them to have a little better life.  If I do that I am most proud.  That is enough for me.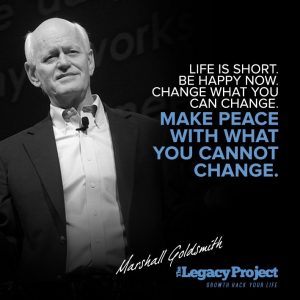 A Key Talent | My greatest talent has been the consistent ability to communicate clear, simple and practical messages.  One of my mentors told me never to use 'big words' and try to impress scholars.  Communicate like a real human being.  My advice – when you are speaking or writing keep your message positive, simple, focused and practical.  As Peter Drucker taught me, "Our mission in life is to make a positive difference – not to prove how smart we are."
How I Use My Mind | Every day ask yourself these six questions:
Did I do my best to:
Set clear goals?
Make progress toward achieving my goals?
Find meaning?
Be happy?
Build positive relationships?
Be fully engaged?
These simple questions help me have a better life!
Performing At My Peak | I don't always perform at my peak.  I just 'do my best' and make peace with the results.
Resources I Use To Stay Inspired | I have a coach who calls me every day.  This helps me keep 'what really matters' in my head.
The Best Advice I've Received | Life is short.  Be happy now.  Change what you can change.  Make peace with what you cannot change.
Advice on Building Wealth | Set another goal.  After achieving a middle class level of income there is almost no correlation between wealth.  Go for happiness and meaning instead.
The Legacy I Would Like To Leave | People look back on their interactions with me and say, "I had a little better like because of him."