In 2014 we had the honor of interviewing Mandla Maseko, a then 25 year old South African from the dusty streets of Mabopane, Pretoria township who was set to become the first black African to go into space. Mandla was one of 23 people who won a seat on an hour-long sub-orbital trip after seeing off 1 million other entrants from around the world to emerge victorious in the Lynx Apollo Space Academy competition. This weekend we learnt of the sad passing of this fine young man after a motor cycle accident and we wish to pay our respects to this kind and inspiring soul by remembering him today. He was, and always will be, a massive inspiration to many younger people across our land, especially to those living in townships who were looking to pursue careers in science. He was a person who had nothing, but accomplished everything he set his mind to, not just by talent, but through hard work and determination too. May his legacy live on for ever and his soul rest in eternal peace.
My Definition Of Success | To me success means seeing every member of my family reaching their full potential and I am working towards that.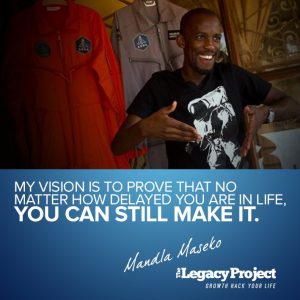 I Am Driven By | My parents, my siblings and the situation in the townships. I feel that there is a system that was created for us the youth of today to fail. My vision is to prove that no matter how delayed you are in life, you can still make it. To the top, it's not about how you start. It's about how you finish.
My Highlights | The highlights about my life are making my family proud. Making my friends and neighbors proud to know a person like me. And in terms of my career is getting my Private Pilot License. The one that stands out the most was featured on Beyoncé's website to celebrate black pride. I was truly honored because being a township space boy and being recognized by a brand as big as Beyoncé, that for me was overwhelming.
The Difference Between Good And Great | The difference "Talent" and "Hard Work". If you're talented, then you can be good at what you do. But if work hard, then you automatically become great at what you do. I believe that hard work beats talent when talent fades out.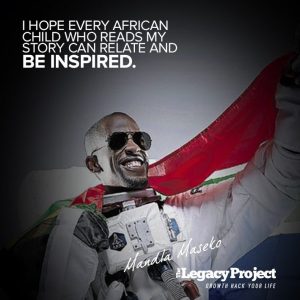 The Characteristics Of Success | Being streetwise and being hungry for knowledge.  Most of the things that I have achieved, I was not even exposed to. I am always curious and when this opportunity came, it was perfect timing for me.
Principles I Live By | Put God First and everything else after him, you will never go wrong. My grandparents taught me that prayer without faith and action is nothing. So when you pray, believe! And do not only believe, but act on it as well. In addition ones family and love must be the center of your life. Friends will come and go, but family will always be there for you.
Critical Skills I Develop | I have fallen in love with flying so I have been privileged to been given the opportunity to study for my private pilot license at SAFTA, South Africa Flight Training Academy. I am proud to say I made it. Next stop is Commercial Pilot License. The Sky is no longer the limit.
How I Use My Mind | Being able to face things head on. I am the type of guy who does not enjoy being left out. I armed myself with knowledge, because I believe knowledge is power.
Dealing With Doubt | Whether you do good or bad, people will always talk about you. It's how you react to what people say, that make you the person you are. The fear I had, was when I did ground school at South African Flight Training Academy. I did not understand a thing; add to that, I also could not get my medicals due to the fact that my breathing technique was very weak. And then that "facing-things-head-on" kicked in. I started putting more effort in my books, asked for help when needed, I also started running to open up my lungs…and I managed to get my medicals and also pass all my ground school subjects.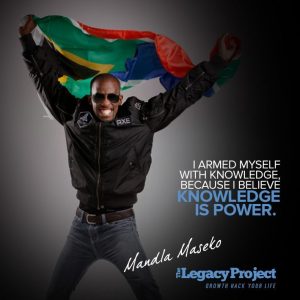 Resources I Use To Stay Inspired | I am always surrounded by people who motivate me, even when it is tough they always remind me of the purpose. To mention by a few, my manager is always the one reminding me that so many young people look up to me, and through hard work and determination, I carry on.
The Legacy I Would Like To Leave | I wish that when my name is mentioned, people know that this is the name of a person who had nothing, but accomplished everything he set his mind to, not just by talent, but through hard work and determination too. I hope every African child who reads my story can relate and be inspired.