Maddy deLone has been the executive director of The Innocence Project since 2004. The Innocence Project is a national litigation and public policy organization dedicated to exonerating wrongfully convicted individuals through DNA testing and reforming the criminal justice system to prevent future injustice. Ms. deLone is a graduate of Harvard and Radcliffe Colleges, holds a Masters in Health Policy and Management from the Harvard School of Public Health and is a graduate of New York University School of Law, where she was an Arthur Garfield Hays Civil Rights and Civil Liberties Fellow.
Before joining the Innocence Project, Ms. deLone was an attorney with the Prisoners' Rights Project of the Legal Aid Society, a Skadden Fellow and staff attorney with Children's Rights, Inc., and a law clerk to the Honorable Robert W. Sweet. Prior to becoming a lawyer, she held various administrative and policy positions in New York City involving juvenile justice, public health, and the City jails. She is the editor of the American Public Health Association's Standards for Health Services in Correctional Institutions (3rd ed). In 2011, deLone joined the Executive Session on Policing and Public Safety at Harvard University's Kennedy School of Government, which met through June 2014.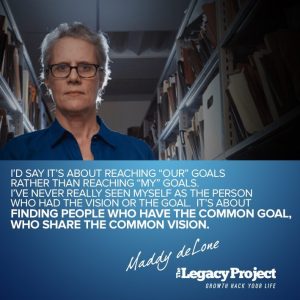 Difference Between Good and Great | People who are great at what they do work really hard at it and care a lot about their work.
A Key Talent | One skill I have is the ability to understand that change takes a long time and that you have to have a complete willingness to be in it for the long haul. I'm able to outlast most people; I think the strength is probably patience. So often negative forces get in the way of progress but, generally, if you just stay the course, those negative elements, forces, people and trends do go away or get transformed over time.
Principles I Live By | I believe in my life and my work and, I hope, I have always been grounded in a sense of the importance of every living person. I try very hard to understand and appreciate the humanity of everyone regardless of the fact that it is sometimes hard to do that. But I really think that when we forget that, at the end of the day, the world is made up of individual people, each of whom has humanity, we go off course.  I think honesty is another principle or value that I live by. As hard as it is sometimes to say the truth, you have to find a way to do that. Because, once we live in a world of deception, we're in a bad place.
Dealing With Doubt | For me, fear, self doubt and negativity are more about ideas or words or uncertainty about the choices of taking a direction. I simply try to remember the purpose or the goal and say what I think, and I trust that it either will be or that someone will then react in a way that makes me better able to make a decision.
The only time that I was ever physically afraid was when I was working in a jail, and I witnessed a correction officer beat up and seriously harm a young person who was in jail. I stood and watched it, and I was not physically able to stop it. I wanted the officer to know that I had witnessed it and, after that encounter, he followed me into my office, which was an interior office with no other way out. He got very close to me and told me that I'd better not say anything because he was there to protect me, and he needed to do what he needed to do. I told him that I needed to do what I needed to do and that he could not do anything like that again and that I would report him this time. It did take courage to speak back to him, but I just knew it was the right thing to do. I also knew that I would be supported in doing the right thing, and I think that provided me with strength and comfort.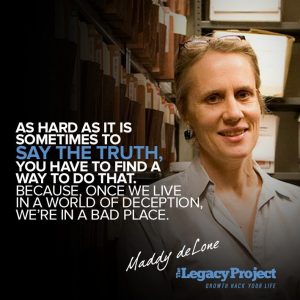 I Am Inspired By |Many. Here at the Innocence Project, the exonerees inspire me every day. When I worked in jails and prisons, the men and women who were locked up and who retained great humanity inspired me. My colleagues inspire me. Reading about people in all parts of the world who overcome great obstacles or face great fear and work to change the world for the better, or their countries for the better, or their communities for the better—they inspire me. Fortunately, there is no end of inspirational.
Best Advice I've Received | It's very simple: do what you think is right. I've received that advice in various forms.  At the end of the day, when you're faced with choices, you can do something that feels right or you can do something that feels wrong, and if you choose right, that's the better choice.
The other piece of advice, and this is really about leadership, is to appreciate the talents and skills of others, and to embrace the talents and skills rather than to be threatened by them. There is no need to be the best at anything. And it is ok to not know the answer. Once you incorporate that, it is very liberating.
Of course, you want to develop the skills that you have to the best of your ability. You want to work hard and not just do the things that come naturally to you. You want to get better at things you're not good at and ever better at the things you are good at.
When I first started supervising people, everyone, including myself, had the tendency to think that they had to know everything, and they sometimes felt threatened by people who knew more or were different. But eventually, I realized that surrounding myself with a smart, diverse-thinking group of people is the only way that I will get better, that the organization will get better, that the work will get better. If you think you have to be the very best at everything, then you are the limitation to what can be done.
When I first started at the Innocence Project, there were very few of us, but then we added people who were experts in development, communications, and policy. Each person brought a set of skills. Then the people that began to populate the departments were specialized and even more skilled in some areas than the people who managed the departments. If each of us had felt that we could only hire people who we could feel superior to in knowledge—that would have been silly. But together, we've done great things.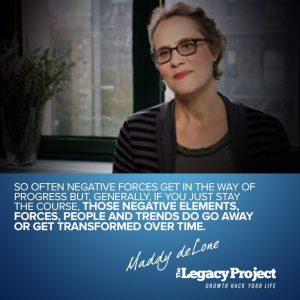 On Inspiring Others | You find people with great passion and great skills, and you let them do their work.  Ideally you allow people freedom, and you work together to try to find a common mission. As long as the work is interesting and important, and people feel valued, they stay. And I'd say it's about reaching "our" goals rather than reaching "my" goals. I've never really seen myself as the person who had the vision or the goal.  It's about finding people who have the common goal, who share the common vision.
I Am Inspired By | I draw on the experiences of my parents, my husband, and many friends and colleagues.  I ask myself sometimes, how would each of them handle the situation that I face, and through their example, or whatever I credit them with, I think about how I might move forward in difficult situations. So, my role models are very local. And I'm fortunate to be surrounded by and to have grown up with many great role models.