Lusanda Worsley is a strategist, entrepreneur and innovative leader who is challenging the status quo in the advertising agency sphere. She is the Founder and MD of EMPIRE, which remains South Africa's first and only black female driven experiential marketing agency. After years of working with popular international brands across all industries, Lusanda has kept identifying the reoccurring misrepresentation of Africa and its people. This young South African pioneer has identified a gap in the market and established EMPIRE to bring to light a more accurate representation of the uncharted black market. We invite you to be inspired by this dynamic young woman's journey through the advertising world: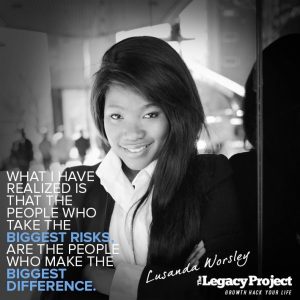 About my Life Mission | Creating a new era of advertising.
What drives you | Self-driven and dedicated people that are wanting to make a change not only for themselves but also for the world in a positive way. Innovators and re-creators in their own expertise.
The Magic in me Originates From | Besides the supportive and close people in my life, that magic comes from stories.
As an advertiser, turned innovator, I'd like to think of myself as a storyteller, and that comes with it's own powers.
Power is the ability to tell the people a story that can change their lives. Power is how they are told, who tells them, when they are told, how many stories they are told. With great power, comes great responsibility.
The only things that separate us and bring us together are stories. "We age not by years, but by stories and experiences."
The Difference Between Good And Great | Being 'great' is a strong definition that can mean numerous things for any individual.
For me it is the willingness to make a difference in the world and in your own life. An innovative leader that can inspire change in individuals and speak beyond the result of money to the impact they can make on people, their society, how they view the world and who they become.
Build. Create. Innovate
Lessons I Have Learnt | I've learnt this lesson the hard way because of what society represents and teaches us to conform to from an extremely young age.
The best lesson I have every gotten is to be yourself and stay true to it.
I'm a maverick, I am a risk taker, and some people may call me insane because of the decisions I decide to take. What I have realized is that the people who take the biggest risks, are the people who make the biggest difference.
Resources I Use To Stay Inspired | Stories in advertising, sitcoms and movies have always been an escape for me – Characters like Ross, Rachel, Joey, Chandler and Phoebe were always my go to, when the world got tough.
I get my inspiration and creativity from these stories, but also from every day stories that I see on different mediums like Instagram, Snapchat, Facebook, Twitter etc.
I still can't help but wonder what my life would have been like if I had started watching the best of Shonda Rhimes shows now, back then. The powerful, beautiful and intelligent black females she represents in her shows are
everything I live for today, and so eagerly learn more about because that is who I want to represent, not only for myself, my country, but for the world. I want to be a so-called "Gladiator in a suit" (Reference to Scandal / The Fixer Shonda Rhimes series).
My Future Dreams And Ambitions | The options are endless and the world is full of possibilities.
My goal is to get the SA creative industry internationally recognized to more than just artisan craft and music. Although those talents are amazing talents, Africa has so much more rich and unique content to offer besides from cliché stereotypes.
The Best Advice I've Received | "Keep it real"
Stay true, to who you are and what you want to be.
You are so unique and no one can tell your story the way you've lived it. You are stories, and stories are you.