Tera Mtembu is currently a rugby commentator on Super Sport, as well as pursuing his passion for rugby development within this community as he sometimes coaches in schools and also offers mentorship, whilst furthering his studies in Business management whilst he is recovering from his injury. However at only the age of 23, Tera was named the first black captain for the Sharks Curry Cup rugby team. He hails from the famous Dale college boy's school in the Eastern Cape where his love for rugby first started.  
I Am Driven By | The fact that I have accepted the Lord as my saviour and King, and that he has blessed me with a talent and I will fulfil his plan for me. My family of course play a huge role as well.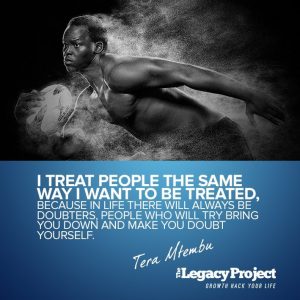 A Key Talent | One of my biggest strengths is that I treat people the same way I want to be treated, because in Life there will always be doubters and people who will try bring you down who will make you doubt yourself. I quickly learnt that by letting go of issues that hurt the most and dwell on those that bring positivity.
Principles I Live By | The sooner you find your identity, the easier life will be and all your goals, visions, dreams will be easier to manage.
Lessons I Have Learnt | Taking myself out of my comfort zone quite often and that on its own puts things into perspective by not taking anything for granted. I appreciate every little thing the Lord has done for me.
Dealing With Doubt | I remind myself everyday that the Lord has a plan for me and my purpose in life and no one said it would be easy but the journey will be worth it in the end. It has been a tough year for me, with 2 knee operations that have kept me out of rugby for the whole year and quite a few personal challenges. However I have done nothing but remained positive and faithful.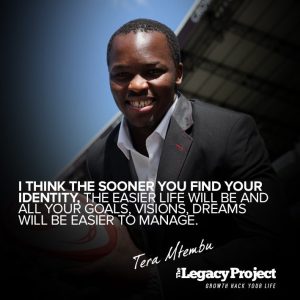 Performing At My Peak | I challenge myself to be better every day. Also by insuring that my mind and body are always fresh to be able to peak at crucial times.
Resources I Use To Stay Inspired | The Bible
I Am Inspired By | Firstly the Lord inspires everyday in life. Secondly my parents are my role models and as I got older I realised how much they have sacrificed for me, which gave me the best opportunity to be somewhere in life and kick start my career.