Lloyd Blankfein has been the Chairman and Chief Executive Officer of The Goldman Sachs Group, Inc. since June 2006, and a Director since April 2003. He serves as a member of the Goldman Sachs Management Committee and Board of Directors. Previously, he had been the firm's President and Chief Operating Officer and prior to that, from April 2002 until January 2004, he was a Vice Chairman of Goldman Sachs, with management responsibility for Goldman Sachs' Fixed Income, Currency and Commodities Division (FICC) and Equities Division. Prior to becoming a Vice Chairman, he had served as Co-Head of FICC since its formation in 1997. From 1994 to 1997, he headed or co-headed the Currency and Commodities Division. Mr. Blankfein is not currently on the board of any public company other than Goldman Sachs. He is affiliated with certain nonprofit organizations, including as a member of the Dean's Advisory Board atHarvard Law School, the Board of Dean's Advisors of Harvard Business School, the Dean's Council of Harvard University, the Advisory Board of the Tsinghua University School of Economics and Management, the Board of Overseers ofWeill Cornell Medical College and the Board of the Partnership for New York City.

 
On Getting People To Want To Work With You And Want To Help You | You have to, in your own life, get people to want to work with you and want to help you. The organizational chart, in my opinion, means very little. I need my bosses' goodwill, but I need the goodwill of my subordinates even more.

On Doing Something Really Well | If you do something really well, the entire world beats a path to your door. The number three, number five, number 400 player gets nothing. It's almost a winner take all.

My Highlights | I remember, my first job when I got my working papers at 13 was as a vendor at Yankee Stadium – the old Yankee Stadium, with very steep stairs in the upper decks. It was all commission-based. And I think a soft drink was 25 cents, and I think you got a 10 percent or 11 percent commission.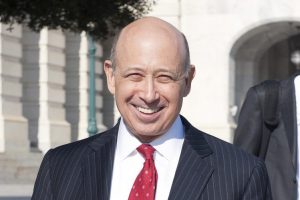 On Life Lessons | I started out as a lawyer and came in laterally to Goldman Sachs. So I learned myself that life is unpredictable. That you really should, in terms of your career, try to be excellent at what you're doing. I think if you focus on your job, and you focus on being broad in the context of your job, the next jobs follow from that.

On The Housing Market | In 2007, in the early 2007, everybody saw the housing market was falling, and at any given moment a lot of people thought it was going to fall more, and a lot of people thought it was going to rebound. You just didn't know.

On Companies That Grow Create Wealth | Companies that grow create wealth. This, in turn, allows people to have jobs that create more growth and more wealth. It's a virtuous cycle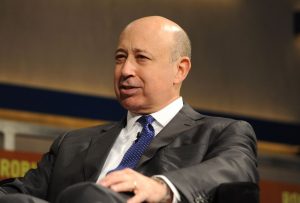 On Staying CEO | That's my expectation and that's my duty.  And I feel that

On Employment Benefits | The ability for employment benefits to be shared among spouses, the ability to move people who are dependent on visas for trailing spouses, all hinges on being able to deal with families of gay people in the same way that you deal with families of straight people. Otherwise, they can't move around.