Lindiwe Matlali is the founder and CEO at Africa Teen Geeks. The initiative is dedicated to inspiring Africa's next generation of technology innovators by providing computer science training to youth in under served communities. With Lindiwe devoting not only her career but also her life to this cause, the company has blossomed into one of Africa's largest non-profit technology education organisations. Lindiwe was orphaned at a young age and was raised on her grandfather's pension allowing her to strongly relate with the children she assists; she ironically holds this misfortune accountable for all her successes in life. Lindiwe has risen to the top against all odds and hopes to inspire all those she encounters to do the same. We invite you to allow her wisdom, advice and encouragement to achieve the same for you:
About my Life Mission | My life's mission is to close the opportunity gap with regards to access to computing education. The majority of South African children do not have the opportunity to learn computer science. My goal is to expose them to computer science, helping to inspire Africa's future generation of technology entrepreneurs and innovators.
My Definition Of Success | My definition of success is when I have inspired and helped people live their best lives and become everything God created them to be. Basically to me, success is measured by how many people I have helped. That's a purpose driven life.
I Am Driven By | As an orphan my grandfather raised my siblings and I from his pension; he always told me that education was my ticket out of poverty. He always said; "if you persevere at school, one day you will not even remember that you are an orphan". I am driven by my goal to make him proud and show the world that an orphan raised by a pensioner and a garderner could rise and study at some of the best universities in the world. I am a proud UCT, Stanford and Columbia University student.
My Highlights | I must say, my highlight was when Africa Teen Geeks successfully hosted its first computer science week where we exposed 12500 children from disadvantaged communities to computer science at UNISA labs across South Africa in 2015. 98% of those kids had never touched a computer before; by the end of the day they had written their first code. Some were already dreaming of becoming the next Mark Zuckerberg.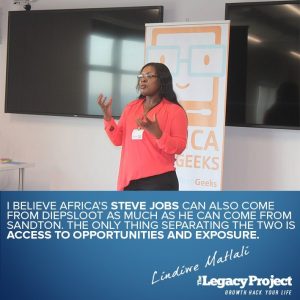 The Magic in me Originates From | My grandfather and my love for children. I have a soft spot for disadvantaged children because they are often judged based on the circumstances and looked down upon. Being one of them, my goal is to help these kids realise their dreams and show the world that they don't need pity but rather opportunity. That's why I am working tirelessly to close the opportunity gap with regards to access to technology education. I believe Africa's Steve Jobs can also come from Diepsloot as much as he can come from Sandton. The only thing separating the two is access to opportunities and exposure.
Lessons I Have Learnt | Leadership and greatness can't be inherited. If you want to stand out you have to be willing to do more than is expected of you. Don't compete or compare yourself to others. You need to learn to give yourself a pep talk and learn to pick yourself up especially when EVERYTHING seems to be falling apart.
Resources I Use To Stay Inspired | I read a lot of books. My kindle is full of books from authors I admire on everything from strategy and management as well as biographies of people I look up to. I also read blogs such as the Farnam Street, Seth Godin, Harvard Business Review, Stanford Review and medium.
My Future Dreams And Ambitions | I would like to see computer science being taught at every school in South Africa.