After 20 years as a classroom teacher, Wayman decided to become a New Teacher Coach, then Principal in 2003.  In 2005, she was moved to Rhodes High School where she was credited with moving the school from 3% and 9% proficiency in math and reading as measured by the PSSA to above 50% in both areas and ensuring a 94% college acceptance rate.   During 2010-2012, Wayman served as assistant superintendent for all 52 high schools in Philadelphia.   In 2013, Wayman decided to return to the neighborhood where she grew up to lead the merger of three neighborhood high schools.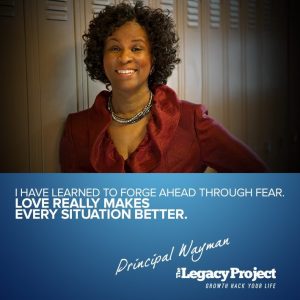 I Am Driven By | What drives me is my gratefulness to God for all he has done to change my life.
My Highlights |
The highlights of my life have been:
My exceptional mother, Mona Cliatt.
My two wonderful sisters.
My wedding day.
The birth of my two beautiful daughters
Meeting Hillary Clinton in person.
Giving a TED Talk.
Some of the highlights of my career have been:
Presenting the opportunity to send many underprivileged children to college.
Giving children the "So what, Now What" attitude to overcome some of their adversities.
Proudly served as Principal of 3 high schools in North Philadelphia, an area where I grew up poor and needed an education to escape.
Appointed to the position of Assistant Superintendent of 52 High Schools in Philadelphia in which the education and safety of 61,000 students were my responsibility.
The Difference Between Good and Great | People who are great at what they do find the time to pray, they are persistent, they make many sacrifices, they are steadfast in their beliefs and quest for excellence and they have courage.
A Key Talent | I believe my greatest talent is my voice. My voice has strength. All my life, I have resolved that change comes through the spoken word, therefore, in order for my voice to be heard properly I have learned how and when to project language that have the greatest impact on the listener. I write down what I am going to say before I say it, then, walk away from it and then revise. I've learned to practice my tone and then release it when it is necessary to do so.
Principles I Live By | The principles and values that I believe are important to live by are:
▪ Be true to your word. If you say you are going to do something do it.
▪ Be true to what is RIGHT. If something has gone wrong to people who are underserved, use your power and influence to make it right.
▪ Do what you can to help someone who cannot help themselves.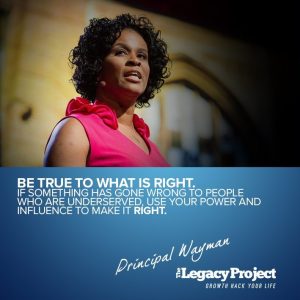 Critical Skills I Develop | The critical skills that I have used and continue to work on for success are public speaking and writing.
Important Lessons I Have Learnt | I have learned to forge ahead through fear. Love really makes every situation better.
Dealing With Doubt | I was very afraid to do my TED talk. I convinced myself that it was beyond something that I could achieve. Several times I called my coach and wanted to quit. Then, I remembered through prayer, GOD did not bring me out of poverty to the stage at TED to leave me. There had to be a reason for me to complete the talk, a cause to serve others. So, I put the cross around my neck (something I never wear) and walked on stage.
Performing at My Peak | To ensure that I am always performing at my peak:
▪ I exercise every morning at 5:00am.
▪ I complete all task from the previous week. I take no old
task into a new week.
▪ I organize my commitments for the week to maximise every minute in a day. I create this schedule at the neighbourhood library on Sundays.
My Future Dreams And Ambitions | I would love to author a powerful book for school leaders and people who want to be school leaders. I would love for the book to become a movie. Finally, I would love to replicate what my idol, Barbara Jordan, did many years ago which is to speak at the Democratic National Convention to help Hillary Clinton get elected as the first female President of the United States of America.
The Meaning of Life | Service to others.
The Legacy I Would Like To Leave | The legacy that I would like to leave is that I cared enough to make a difference. I cared enough to stay. I contributed to leading many children out of poverty through education.