Recently voted one of Mail & Guardian's TOP 200 young South Africans for 2016, Lebogang started and runs a non-profit organisation called Nubreed that gives music and dramatic art lessons to kids in rural Mpumulanga. She is the perfect example of living 'on purpose' and her story, detailed briefly below, is nothing short of awe-inspiring.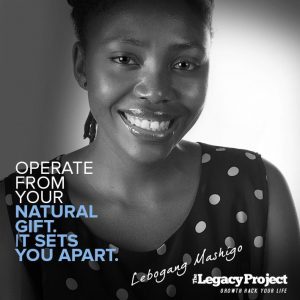 About my Life Mission | My life mission is to develop and empower.
My Definition Of Success | Success means living a purpose driven life. Living a life that adds goodness in the world. When someone looks up to you, that's success.
I Am Driven By | My dreams. I believe in realizing dreams. That's the point.
My Highlights | 2016 has been a great year for me. Being recognized as one of the M&G 200 young South African's has been the highlight. Personally I'm in a great relationship and I'm very at peace.
The Magic in me Originates From | I don't think I have magic. I think my energy sets me apart. I'm a very energetic personality and that comes through in my projects. It works in my favor.
The Difference Between good And Great | The difference is the driven force behind every person. People that are good at what they do get the job done. But when you're great it becomes about more. You invest yourself and that will always stand out.
A Key Talent | A couple come to mind, but I will focus on my personality. I'm very energetic and this allows me to develop ideas and connect myself to them and them to reality. My energy keeps me running and doing. My energy is something that comes natural to me and this helps me to keep focused. Advice: Operate from your natural gift. It sets you apart.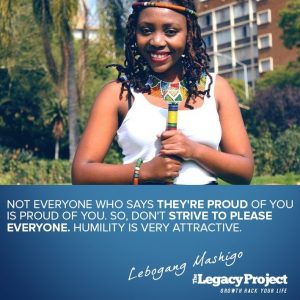 Principles I Live By | Humility. It grounds me and allows me to hear and learn from people from all walks of life. And this attracts people who will always want to assist or get involved.
How I Use My Mind | I believe in the so called "impossible". When people say it cannot be done, then I know I must make it happen. Not for others but for myself and those watching.
Lessons I Have Learnt | Two I'd like to share: Not everyone who says they're proud of you is proud of you. So, don't strive to please everyone. Humility is very attractive.
Dealing With Doubt | I have had many moments of self doubt. Coming from a small unknown village to being on national platform can be intimidating. But I always remember to go back to my true self. Keeping it real always works for me.
Resources I Use To Stay Inspired | I learn from people. I engage different people and learn many different things. Best books: The Bible and Rick Warren's The Purpose Driven Life
My Future Dreams And Ambitions | To make Nubreed Co & MI a Southern African Brand. I want my company to do work in the African continent by 2018.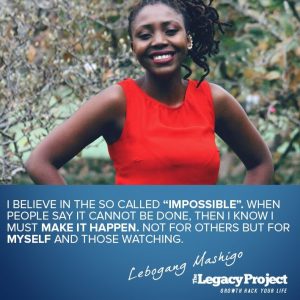 The Best Advice I've Received | The best advice was from Nevil Norden: Learn to motivate yourself.
I Am Inspired By | I don't really have one person. A couple of people inspired. Gandhi's words resonate with me: Be the change you want to see.