Lauren Bucherie is a music entrepreneur, that co-founded The Sessions which serves as a platform to connect audiences with undiscovered  bands and nationally acclaimed artists in Austin, Texas. She owned this from 2009 to 2014 and is now the Director of Music and Social Programming at Hotel Van Zandt. Bucherie splits her time between administer work, guest experience and most importantly – the restaurant at the hotel has live music every day of the year. Her aim is to give the hotel the music personality it demands and  wants to strike a chord in the heart of Austin. Her passion for music has lead her to all that she has achieved and her journey is truly something to aspire to.
I Am Driven By | Believing that we all have the opportunity to make a difference in the world, and I'm not necessarily talking about the great big wide world, but the small world around us- our communities, the industries we work in and matter to us most as individuals, I am constantly focused on how I can contribute.
My Highlights | Meeting my wife is the highlight of my life. Working alongside her to fulfill our individual and shared goals make me the most proud.
Principles I Live By | Do things madly. Bring passion and purpose to your work. And always put your phone away at the dinner table.
Performing At My Peak | Rest when the opportunity presents itself and order strong espresso when it doesn't.
The Meaning Of Life | To find the people you love and make them know it. Nothing is more important than family and friends who are family.
The Best Advice I've Received | Stay present in the moment. You never know when an opportunity down the line will be made possible because of something you worked on previously.
I Am Inspired By | My mother and grandmother will always be my ultimate role models. I would need an entire essay to tell you the boundlessness of their capabilities. My wife inspires me every day with her beautiful and kind heart.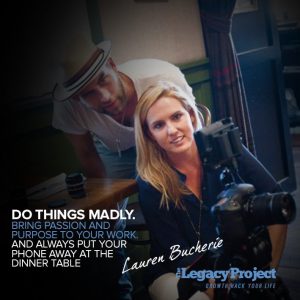 The Legacy I Would Like To Leave | I'd like to be known as someone who truly gave a damn about her work, who was known for being a good listener, and made people feel good when she was around.