Kobus Neethling has excelled and achieved in various different fields in South Africa. From having 6 University degrees, including two Master's Degrees, a doctorate and a Post-Doctorate (Cum Laude), to being Guinness World Record Holder: Co-author of "Making the Impossible possible" —the book of more than a 100 pages written in the fastest time ever —four and a half minutes.  He has received various awards for things like the 10 International Who's Who Awards including Personality of the Year (2000); One of 2000 outstanding Scholars of the 20th century (1999: Cambridge England) and The International Who's Who of Intellectuals Award. Neethling has written more than 80 books and 9 TV series including a number of international best-sellers (Including three new international best-sellers: 'Creativity uncovered'; 'Very smart parents' and version two of ''Am I clever or am I stupid'—has sold more than 200000 copies)) is the Creator of the internationally acclaimed Neethling Whole Brain Creativity Instruments. 
I am Driven By | The desire to keep on thinking about things that are new and different and to put those things into action.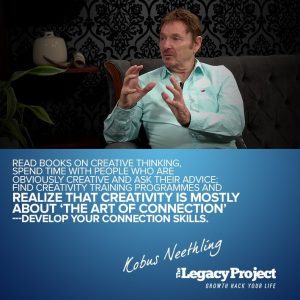 A Key Talent | Applied creative thinking. Begin to understand what creative thinking is all about and that we all possess the ability to be creative. Also try to pinpoint the domains where you would like your creativity to grow and prosper (general, relationships, learning, leadership etc) Read books on creative thinking, spend time with people who are obviously creative and ask their advice; find creativity training programmes and realize that creativity is mostly about 'the art of connection'—develop you connection skills.
The Characteristics Of Success | The ability to challenge outdated beliefs and then put something more meaningful in their place. A relentless pursuit of your vision combined with hard work should be a given.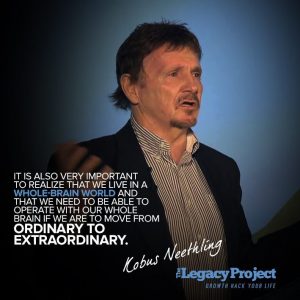 Critical Skills I Develop | Whole brain communication, whole brain relationship building, creative problem solving and solutions finding.
Performing At My Peak | Realize that dynamic change is a major ingredient of our time and that we need to stay comfortable and excited about managing and co-creating these changes.
Best Advice I've Ever Received | Ignite the inherent creativity within you.
I Am Inspired By | Prof Paul Torrance my ultimate mentor (even after his death his influence remains strong), my family and my creative friends.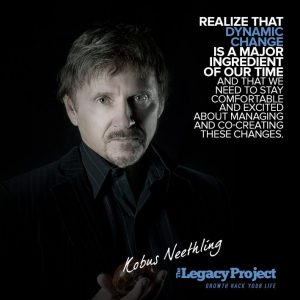 Legacy I would Like To Leave | That people remember me as someone with an enlightened mind, who was never ordinary, that cared about people and also believed that the best was yet to come.