Kim Normand Dobrin has been in the non-profit world for the past 26 years. She has been a part of many successful ventures and organizations. Representing Survivors of the Shoah Visual History Institute – Formed by Steven Spielberg – in South Africa; Founding director of the Apartheid Museum; Sat on Human Rights Commission for Education; Founder/CEO of Tolerance Foundation teaching over 70 000 children life skills based on history i.e. – Apartheid, Holocaust, Rwanda and Kosovo.
She Founded Tomorrow Trust – www.tomorrow.org.za in 2005 giving holistic educational and self development support to orphan and vulnerable children/youth with great success! Tomorrow Trust is a longitudinal deep model from Grade R(K1) – Grade 12 and into College and University including Alumni support.
She is an Ashoka Fellow and has studied at Harvard Kennedy School of International Studies.
Kim is the author of 3 best sellers in South Africa- "Tomorrow", "A Mother's Legacy" and "Raising Wisdom."
She is the co-author of "Freeing Freddie-The Dream Weaver" with her son Brent Feinberg … www.lighthealing279.com
Kim is a Founding Director of "With Love From Freddie LLC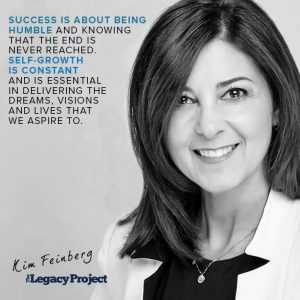 My Definition Of Success | Success to me has changed over the years. As I have grown and developed I have realised more and more that it is not what I accumulate in assets yet rather the impact and relationships that I have created and experienced over the years. It is also about how I face my challenges and joys on a daily basis. We all face times that are difficult where we are not sure if we can cope with what we face in that moment in time. By developing my inner voice and inner knowing I have created a base and trust that all problems can be dealt with using a focus of creating solutions. Success is about being humble and knowing that the end is never reached. Self-growth is constant and is essential in delivering the dreams, visions and lives that we aspire to. Life is about the whole – it is about seeing who and where we fit into the universal space and then to use this perspective to truly reach our potential.
I Am Driven By | My driver is the belief that I have a life purpose here and I want to do my ultimate to fill that. Impacting the lives of children and youth is my main force in assisting to create a better world for us all to live in.
My Highlights | Highlights are numerous and I feel very blessed to have them all – a few are – to have had given birth to 2 amazing children is without doubt my greatest achievement. They have taught me so much on our journey together. To have worked with and to have met with the likes of Steven Spielberg, Madiba, Walter and Albertina Sisulu, to all the Holocaust survivors and orphan and vulnerable children and youth that I work with daily has been a privilege that leaves me humbled constantly.
A Key Talent | We all have talents and strengths that will support our ultimate growth and success. Self-awareness of what these are is up to each one of us to discover. I have committed to both these aspects in a profound way since I was a child striving to be more in all respects. I am never in comfort zone which can be stressful yet exhilarating at the same time. I push myself to take personal risks that will allow me to grow and show me where I need to grow personally as well as within my career. I have had to learn not to be too concerned with outside opinions and to value my own. I surround myself with those I want to be with and not those I feel that society deems I should be with! Take the time daily to see what makes you authentically you – if you don't feel comfortable ask yourself why not. I ask myself what I want from my own life and pursue that with vigour. Strive to surround yourself with a support structure who want you to succeed. These people can be family, friends or paid support such a coaches or practitioners. Stay in touch at all times with yourself and your vision of life. This will dictate how you create your journey.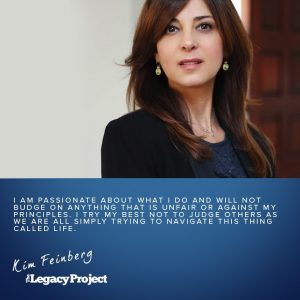 Principles I Live By | The most important principle I hold in my life is that of integrity and authenticity. Without these there can be no trust or values and morals. Both these will speak to the person that you are and will show others that you live by your word – " my life is my message" Ghandi. This is the statement I live by. Don't say one thing and live by another – don't be a fraud!
The Best Advice I've Received | Advice is one thing – many people will give you advice. It is what you do with it that counts. Advice comes from life experiences and many people as your journey unfolds. For me this comes in many forms and ways and then it is up to me to collate it all and make it fit or not into who I want to be.
On Inspiring Others | My success as a person comes from me being the best that I can be and by truly caring about how I impact the world around me and all those in it, we are then a team in all respects. We support each other to be the best that we can be. Nothing gives me more joy than to see others elevate themselves into their true potential to be great! This is investment into ourselves and those we care about.
The Legacy I Would Like To Leave | Legacy is an interesting subject. Do we choose to leave a legacy or do others create one for us when we are no longer? I haven't decided this as yet. All I can do is live my days with the most passion and commitment that I can muster. I am passionate about what I do and will not budge on anything that is unfair or against my principles. I try my best not to judge others as we are all simply trying to navigate this thing called life.
I Am Inspired By | Every person I meet sets the stage for a lesson to be learnt – these come through both positive and negative experiences. So all in all every individual is a role model of some kind. My children are my greatest teachers. They have pushed me into spaces I did not know I was capable of moving into. So many others who have joined me at different stages have given me lessons to take along or discard. I have an internal fire within me that burns to be more and do more to impact more in the world in a positive manner …