Kevin Guoh aka Kaye is arguably one of Singapore's most versatile and ever evolving musicians. Over the decades, he has morphed across the performance spectrum from bands to DJing to live sets with computers involving anything, and blending everything from his trusty saxophone, to the EWI, vocoder, midi controllers, drum machines, analog synths and more. His love for music technology is responsible for his ever evolving setup, and all this is deeply entrenched in a wide range of musical genres. From deep and acid laden house and techno, to funk and hip hop wrapped in electro boogie vibes, all seasoned in the roots of jazz and soul. His experience in the underground has not gone unnoticed in slightly more mainstream mediums, and this has led him to being booked by high end fashion houses for their parties – from Louis Vuitton to Gucci, Chanel to Christian Dior and beyond – and international events such as Beijing Olympics (2008), Singapore Grand Prix, Zoukout, and the Volvo Ocean Race.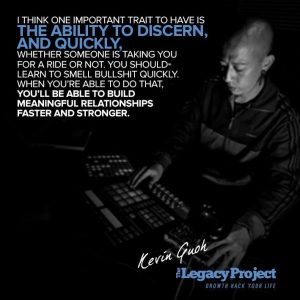 My Highlights | Getting the opportunity to play with some of my musical heroes in the electronic dance music scene is definitely something worth mentioning. From listening and studying their music and live performances, to playing with them, gets a bit surreal sometimes. It's also not just a single event that has made me the most proud, but rather the fact that I am able to do what I like to do for a decent living, and I cannot ask for more.
The Difference Between good And Great | Hard work, dedication, practice, and always having an open mind.
A Key Talent | I think the main thing for me is the ability to wear a few hats. I started out as a saxophonist, playing cover music in the bar circuits, then went on to specialize in playing with DJs (something I'm still uniquely known for), to Djing and music production, to performing live as a one man electronic act (using computers, drum machines, synths, and the like). It's always about being able to adapt to new situations. The entertainment climate is very volatile – something that was in demand will not always be so, so one needs to be able to react, pick up new skills, and stay relevant. The more items you're able to bring to the table, the more valuable you'll be as well. Of course, you can be dedicated to just one craft and work on it and excel, and that's a great thing to do as well, but my path has led me to being versatile more than excelling at one thing.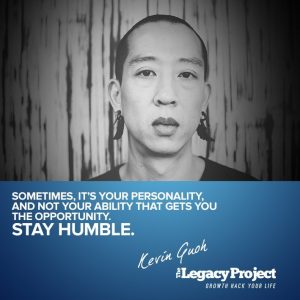 The Characteristics Of Success | If you're talking about being able to achieve things, then I think one important trait to have is the ability to discern, and quickly, whether someone is taking you for a ride or not. You should learn to smell bullshit quickly. When you're able to do that, you'll be able to build meaningful relationships faster and stronger. And through that, other people can help you realize your goals faster too.
Principles I Live By | Humility, patience, and not taking oneself too seriously.
How I Use My Mind | You always need to have the end result first, only then do you know what you're working towards. Being meticulous and organized works for me. I know it's very strange coming from a creative, but I work a lot with technology, and technology demands a great deal of logic to be able to harness it's power well.
Resources I Use To Stay Inspired | The internet is a huge treasure trove of information if you seek it the right way. Besides that, music, Lego, and video games help with the inspiration!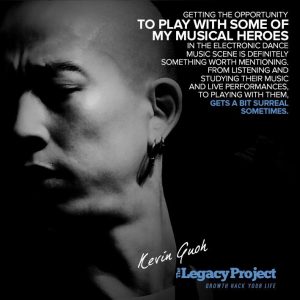 The Best Advice I've Received | Sometimes, it's your personality, and not your ability that gets you the opportunity. Stay humble.
I Am Inspired By | I always tell people Miles Davis will always be my musical father. He was someone that had a real gift for choosing the right team mates, and he was always ahead of his time. He was always at the forefront of any major musical development in Jazz. Lastly, he was commercially successful, but yet did not compromise on his artistic integrity. That is one of the hardest things for any creative to balance.