John Hope Bryant is a 'silver rights' entrepreneur and businessman, author, thought leader, philanthropist and the founder, chairman and chief executive officer of Operation HOPE and Bryant Group Ventures. He has been an advisor to the last three sitting U.S. presidents, whose work has been recognized by the last five  U.S. presidents.  On February 26, 2014, Bryant was appointed by President Obama to serve on his new U.S. President's Advisory Council on Financial Capability for Young Americans, focused on the next generation of young leaders. 
Bryant is a Young Global Leader for the World Economic Forum and has received many awards for his work to empower low-wealth
communities. Operation HOPE is America's first nonprofit social investment banking organisation. His versatility is certainly something to aspire to and he has received more than 400 awards and citations for his work to empower low-wealth communities including the Use Your Life Award from Oprah Winfrey. 
My Definition of Success | As an entrepreneur and a philanthropist, success to me is going from failure to failure without loss of enthusiasm, staying focused on the end game of global economic inclusion, and never ever giving up. Success means being able to transform lives and instil a sense of dignity to all, which is the true solution to empowering the poor and long term sustainable change.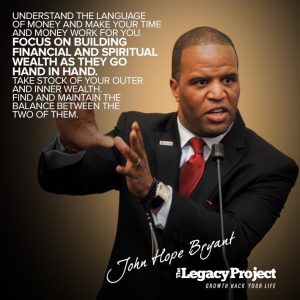 I am Driven By | I'm driven by my conviction that we can alleviate poverty in our lifetime by empowering people to help themselves and spreading the power of open source capitalism to make the free enterprise system work for everyone.
The Difference Between Good and Great | The people who are great at what they do are passionate about what they do. They face challenges head on and find positive solutions to move forward. They surround themselves with strong warriors. They talk without being offensive, listen without being defensive and always leave their enemies with their dignity.
A Key Talent | I focus. I always accomplish more by doing less. And I am ruthless with my time. If I had to choose between making more money and empowering more people or having more time, I would ask for more time because then I would make more money and empower more people.  Once you have achieved this, then you can "be present" and when you are present you can execute with more success.
Performing At My Peak | I understand that while I have radical focus and am accomplishing more with less, some things still need to give and it is important to let go of certain things in order to perform at your peak.  I also take care of myself and make sure I eat, exercise – even for a couple of minutes a day – and sleep when I can to refuel.  I also do something at the end of the day that has nothing to do with work to refresh my brain and get ready to excel the next day.
My Future Dreams And Ambitions | To eradicate poverty in my lifetime and spread "the memo" globally that free enterprise and capitalism can work for everyone.  To make transformational, sustainable change at scale to make the world a better place.  To leave a legacy of hope and dignity. Since I've developed a passion for car racing, I would like to attend or participate in the Nurburgring 24, the 24 Hours of LeMans or the Dakar Rally.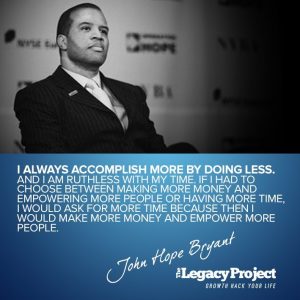 The Meaning Of Life | The meaning to life for me is contribution is that everyone in this world is here for a reason. There is not a single person who can claim not to be a contributor.
Advice On Building Wealth | Understand the language of money and make your time and money work for you. Focus on building financial and spiritual wealth as they go hand in hand. Take stock of your outer and inner wealth. Find and maintain the balance between the two of them.
The Legacy I Would Like To Leave | I would wish to be noted for bringing financial literacy, the new civil rights issue of our generation, into reality and delivering "silver rights" — the right to practice free enterprise and capitalism to people in underserved communities. I would also hope that long after I am gone, that Operation HOPE continues to empower and transform underserved communities with hope and financial dignity.