Jessica Dewhurst has been an active member of the Edmund Rice Network for 13 years, a volunteer in ER projects for over 9 years, and the Networks Youth Coordinator for 2 years. She is also the chairperson of the Edmund Rice Associates Young Adult group in Cape Town. In December of 2013, Jessica was appointed as the Southern Central African District's Social Justice & Advocacy Desk Coordinator for The Edmund Rice Network. At the young age of 15 she began volunteering at Edmund Rice Camps, mentoring vulnerable children and youth, many of which were refugees, victims of physical, sexual and emotional abuse, as well as children suffering the effects of HIV and Aids. Jessica completed her Bachelor of Social Sciences Degree in Sociology and Social Development at The University of Cape Town, and was placed on The Deans List for Academics.
In 2012 Jessica received The UCT Student Leadership Award in Media, and served as the university's radio stations News, Talk, Marketing and HR Manager. She also served on UCTs Developmental Agencies Sub-Committee and Student Assembly. In 2014 she was also placed on Youth Village's Top 30 Inspirational Young People in South Africa's List for 2014, as well as was featured as one of Who's Who's Under 25's Notables in South Africa. In 2015 she was selected as a Queens Young Leader for 2016 for her work at The Desk and will receive the award from Her Majesty the Queen of England at Buckingham Palace in June 2016.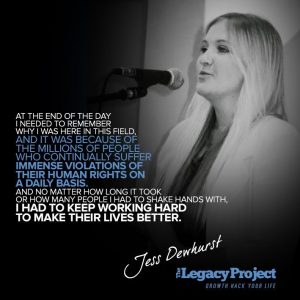 I Am Driven By | The success stories from our many beneficiaries! Seeing the many young adults we train come back to us proudly holding their new qualification, or sharing stories about the job they've been working, or how they have started working with their ward counsellors to bring about positive changes in their communities – these stories drive me! I am continually in awe at the selflessness, hardworking attitudes and determination of our South African youth. They inspire me each and every day to be the best version of myself that I can be. I owe them everything.
My Highlights | On a personal level, getting to my first Masters Degree was quite a shocker! I have always valued education, and was so blessed to keep studying while I worked. Having the opportunity to be trained with ERI at the United Nations in Geneva Switzerland was also an amazing opportunity. Receiving the The Duke of Edinburgh's International Award, and The Presidents Gold Award for Youth Empowerment from South African President Jacob Zuma; and HRH Prince Edward, the Earl of Wessex and HRH Sophie, the Countess of Wessex were also phenomenal experiences. I can hardly believe that I'll now receive The Queens Young Leaders Award from HRH Queen Elizabeth in June.
A Key Talent | Over the years I have learnt that we live in a world that is fundamentally unjust at its very core. And no matter how much I wanted this to change or how unfair I felt the situation was, I also realized that it was very unlikely that this system would be reversed overnight. It was a self-protecting system that would do almost anything to keep the status quo. And therefore I realized that in order to work for effective change I needed to be smarter in the way I approached the system and those holding it in place. So over the years I learnt how to walk the walk and talk the talk of those who consciously or unconsciously uphold the system in order to try to and convince them, in their own 'language' that change was in the best interest for all. This was a skill I had to learn but it has benefited our work hugely and opened many doors that were previously bolted shut!
At first this was really hard because I didn't want to have civil discussions or smile politely at the people who ensured inexcusable injustice in our world. But I learnt rather quickly that at certain times it was better to work within their borders to slowly bring about change than it was to be locked outside and denied the chance to be in the discussion at all. This does not mean to sell yourself out completely– but it means learning to use what is in front of you to benefit the lives of those who need it most.
At the end of the day I needed to remember why I was here in this field, and it was because of the millions of people who continually suffer immense violations of their human rights on a daily basis. And no matter how long it took or how many people I had to shake hands with, I had to keep working hard to make their lives better.
So in offering some advice to those starting out in this field, I would recommend knowing what battles to pick and being smart in the way you approach them. So what if sometimes you have to dress smart or observe meeting structures if it means that you will be in a position to make more change and uplift more lives. I was once told condescendingly that I had to learn how to 'play the game'. So I encourage you to play that game and win it! Turn it on its head! Never forget those you are working for and keep focusing on how you can use what is in front of you to benefit the lives of those who need it most.
Critical Skills I Develop | Critical skills I have used include being a good communicator, learning to be respectful of others and being open to change. The ability to take critical feedback constructively from others is also an immeasurable tool, as well as being able to delegate, having an honest and positive attitude, and being committed to your work and those around you.
How I Deal With Self-Doubt | In my field of human rights education, advocacy and training, I have often come into contact with people who do not agree with our work, especially when training young advocates to stand up against injustice in their communities. I have often feared being physically attacked like some of my colleagues in other parts of the world and at times I've wondered if I should continue in this field because of it. What kept me going however was witnessing the many amazing men and women working on the ground, standing up to their governments and those perpetuating injustice and really benefiting the lives of those most vulnerable. They helped me to see that Human Rights are important! They are so vital to our world that I could not possibly give up this work and that no matter what came our way, it would be worth it. People will always be worth it.
Performing At My Peak |Team work and accountability! I have an amazing team and I make sure that they are always checking my work and calling me to point when I am not performing to my best ability. It is so vital not to work in silos and do everything alone. I struggle with delegation, but it is something you have to work at. Make sure there are people around you who will keep you accountable, and people you can do the same for.
It is also important to make time for yourself. I know it's hard to do, but we need to learn to leave our work at the office. Try not to bring those feelings home, and make the time for your family and friends. Go out and do other things you love! Travel, listen to music, read or go for a run. Don't forget that you can only be of service to others if you are in a good space.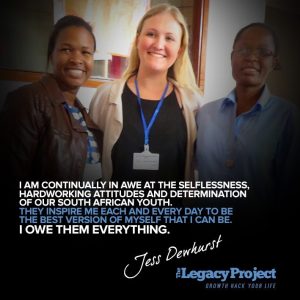 The Best Advice I've Received | A mentor of mine once told me that "the empty vessel makes the loudest sound". It was a quote by William Shakespeare and highlighted the fact that I should never get lost in all the 'noise' that surrounds development work. There will always be those who would rather shout out about all that is going wrong in our country and debate for years on how we can fix things. Although engaging in such debates is useful, you should not lose yourself in them. Instead of letting these noises affect me, I was advised to rather head out into the real world and learn from the people living, working and physically fighting against violence, injustice and intolerance on the ground. Actions speak louder than words and I have learnt to ignore the often distracting commentary in order to rather spend my time in our communities physically working, engaging and learning. Go and get your hands dirty! This strategy has helped me thrive and make a real impact.
On Inspiring Others | You are only as good as your team and I have been blessed with an amazing group of people. At our organization we focus on each person's individual talents and celebrate and use them to the fullest. We work democratically and give everyone a safe place to speak, share and come up with campaigns. By trusting our team and their experience we have seen each project thrive in the material and services they offer. Investing in your team by offering them courses and the opportunity to travel and grow is also vitally important as it reaffirms your desire for them to do well. We also make sure we are always there for our fellow team members and really spend time celebrating our achievements.
I Am Inspired By | I have been blessed with many great role models. Evona Rebelo (ERNSA Coordinator and CSO Director) has been my guide and mentor for many years now, and my parents and siblings have always supported and encouraged my wacky career-choices. My faith plays a large part in my life and keeps me feeling inspired and grounded. Working in a field of social service practitioners and humanitarians, as well as living in a country filled of change makers has never left me lacking in the role-model department, so the majority of people I work with I consider role-models in some way.


Legacy I Would Like To Leave | I would like to leave a legacy of servant leadership, compassion and liberation. I would like to leave this world knowing that I did everything I could to enrich the lives of others, and most importantly encouraged and inspired others to continue the work and do the same. For me being a South African means more than ones nationality. It means being someone who serves first and asks questions later. It means using whatever skills and talents you may have to benefit the lives of those around you. And you don't need to be a social worker or humanitarian to do so. Every person can make a small difference in the lives of those around them. And I would hope to leave a legacy of people simply willing to try.