Jackie Cameron was born and raised in the Kwa-Zulu Natal Midlands, South Africa. She has a long list of achievements such as Hartford House restaurant achieving national Top 10 status four times and making number five restaurant in the country in 2013 – was mentioned regularly in magazines such as Food&Home, Taste, Eat Out, and House and Leisure – all when it was under her guidance.
During Jackie's 12-year tenure, the hotel achieved many other accolades including Top 10 Eat Out, American Express Platinum Fine Dining Programme and People's Choice awards. She was voted by South African Tourism as one of the Top 10 Young South African Chefs, has appeared on TV programmes such as MasterChef SA, Top Billing, and with Justin Bonello in The Ultimate Braai Master. Jackie has been part of the Real Food Movement, is a Chaine des Rotisseure member, and is a proud SASSI Trailblazor chef. Jackie Cameron Cooks At Home, published by Penguin, was published in May 2013 and in July the same year it achieved the status of second highest cookbook sold in the country as voted by Exclusive Books.  At the Gourmand World Cookbook Awards it won Best Woman Chef Book in South Africa.  She has recently opened the Jackie Cameron School of Food & Wine, where students get the opportunity to learn and cook alongside her everyday, making it an invaluable experience for aspiring chefs. It is evident that Jackie is in a league of her own and has added a great deal to the South African cooking scene.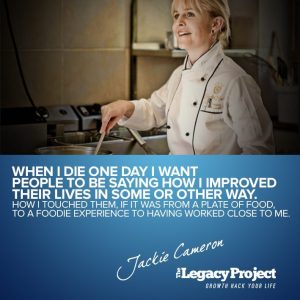 I Am Driven By | Precision, maintaining standard and impressing those around me-especially my parents, trying to keep up with them. Never disappointing and giving up.
My Highlights | Opening up my own school: Jackie Cameron School of Food & Wine, together with all the people I have trained and given hope to and developed to greater means than what they ever thought.  Upliftment and development is what gets me out of bed everyday.
The Difference Between Good And Great | Obsession, passion and working harder, longer and faster than the next.  The deep desire to want to achieve no matter what.
Principles I Live By | Integrity, honestly and treating others as you want to be treated.
Lessons I Have Learnt | Life is full of surprises –some good and some not – nothing in life is presented to one that one can not handle. When one has this in mind so much more is achievable.  And if something doesn't scare you – you shouldn't be doing it.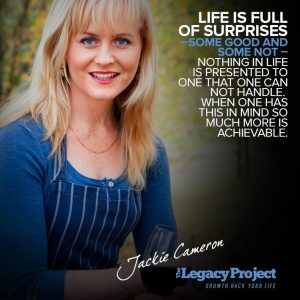 Resources I Use To Stay Inspired | Everything around me from all of the above but mostly actual people, actual conversations and actual experiences is what keeps me inspired.  Living and allowing myself to live and stepping  out of my comfort zone often is what keep me growing.
My Future Dreams And Ambitions | I truly only believe I am ONLY starting to achieve now as I have my own business.  I have been brought up in a family that one must have his or her business.  I am excited for the future and what may come…I am excited for how many lives I can touch, inspire and improve.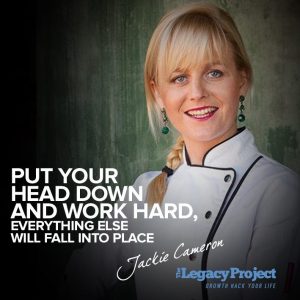 The Meaning Of Life | Inspiring others, when I die one day I want people to be saying how I improved their lives in some or other way.  How I touched them, if it was from a plate of food, to a foodie experience to having worked close to me.
The Best Advice I've Received | Put your head down and work hard everything else will fall into place.
On Inspiring Others | Lead by example and surround yourself with like-minded people.