Ivan has created memorable, iconic images for literally hundreds of clients. He is a founding partner of Chermayeff & Geismar & Haviv, a leading graphic design firm in the fields of corporate identity, brand development and logo design. Chermayeff's trademarks, posters, publications and art installations for contemporary buildings are widely recognized and have received nearly every award bestowed by the profession, including gold medals from the American Institute of Graphic Arts and the Society of Illustrators. He received the Yale Arts Medal, the President's Fellow Award from the Rhode Island School of Design, and the Industrial Art Medal from the American Institute of Architects. A past president of the AIGA and elected to the Art Directors Club Hall of Fame.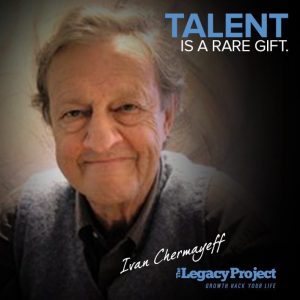 My Definition Of Success | I thoroughly enjoy my work. It is ever-changing, never repetitive, except in principle.
I Am Driven By | My work as a graphic designer is for businesses that I admire to some extent, and it is rewarding to make them more visible and noticed by others.
 My Highlights | That I am lucky enough to have been born with good eyes, cultivated by a father and by good teachers.
The Difference Between good And Great | Talent—a rare gift.
A Key Talent | I understand what I'm doing and consider it helpful. I also understand when solutions are arrived at that are less than great, and must be reluctantly abandoned and work continued. One learns not to make the same mistakes over time. Take the time that is necessary. It's never the same. Some answers are very quickly come by, others have to be worked on, rejected, worked on again, rejected again. Always with the knowledge that has been gained over time.
The Characteristics Of Success | Lasting quality achieved by the highest standard being in place. Acceptable is simply not good enough, ever. Knowing what can be done and working until it is done.
Principles I Live By | Staying on line. Problems differ, attitude is a constant.
 Critical Skills I Develop | Understanding the ever-changing options, and always choosing the right ones.
How I Use My Mind | Talent needs to be nurtured.
Lessons I Have Learnt | There is no need to answer a request badly worded or inadequately presented. Ever.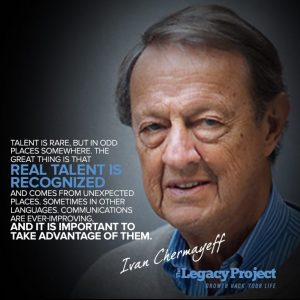 Dealing With Doubt | No, only that some problems others have are not my problems to solve.
Performing At My Peak | I share my ideas and directions with others whom I trust, who in turn may contribute to our decisions as to the directions which should be taken.
Resources I Use To Stay Inspired | It's not a matter of resources, just continuing to read, to observe, and to make new connections where none automatically existed.
My Future Dreams And Ambitions | To be better, which is not possible as one gets older.
The Meaning Of Life | To live well, which means meaningfully, not necessarily successfully.
The Best Advice I've Received | I don't remember. It is all attitude. As a small growing child, my father always said that everything I did was great. The fact that it wasn't didn't matter. It kept me going, and eventually I could tell the difference on my own.
Advice On Building Wealth | Stand carefully, or if in doubt, do something else that what you're doing that impacts your clients' real needs, as long as they are worth your time and effort to help, and you believe that you are right. Do not do good work for bad reasons.
On Inspiring Others | Having people work for you is to use their talents to fine-tune your own ideas. This means one has to be a good critic and people have to appreciate what you suggest positively. You can't do everything yourself in a complicated world—so you have to surround yourself with good help, good hands, and get rid of them if they're not assisting in the endeavor, whatever it is.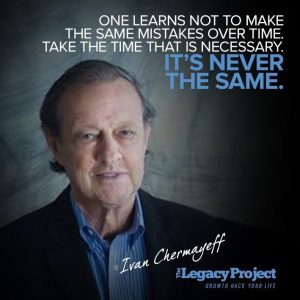 I Am Inspired By | Other talents. They are not necessarily role models, but are recognized as having gifts, different gifts, that present answers to problems, which you can truly admire and respect. They are not numerous at all, but they are all over the world. Talent is rare, but in odd places somewhere. The great thing is that real talent is recognized and comes from unexpected places. Sometimes in other languages. Communications are ever-improving, and it is important to take advantage of them.
The Legacy would you like to leave | A general view that what I have accomplished is helpful to progress in and understanding what better communications are and how they can be achieved.