Isabel Kumwembe was a 2013-2014 Global Health Corps (GHC) fellow where she was the Communications and Development Coordinator with the Art and Global Health Center Africa (AGHCA), in Malawi. She holds a Bachelors of Social Science degree from the University of Malawi. While in school, Isabel founded Chanco: Project Rejuvenation, a student driven volunteer grouping aimed at rehabilitating dilapidated infrastructure at the important institutions in Malawi-and is currently leading the group into its fourth year of action. Isabel is passionate about volunteerism and enjoys working with youth to address development issues. In the future Isabel intends to pursue graduate studies in Program Management and Development Studies.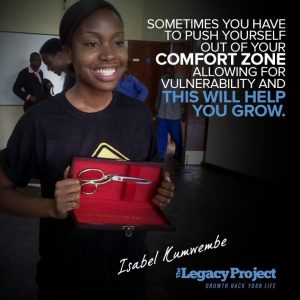 My Definition Of Success | My drive stems from having an awareness and consciousness of the various social injustices and inequalities that prevail in this world. Being part of the solution in addressing these issues is something I aspire to do. It is important to me that I find an intersection between my personal life and professional life by doing work that is meaningful and in alignment with my values. With the great inequality prevalent in our societies in various forms I tend to immerse myself in work that addresses inequality. My drive lies in the knowledge that my active participation in affecting change will make someone's life better. Much of who I am stems from the teachings of my Christian faith.

I Am Driven By | My life and career trajectory have been one that I did not anticipate and have pleasantly surprised me. Where I am today is because of a series of interlinked events. For the longest time, I wanted to be a lawyer. However, I did not make it into law school. In that regard, I continued on my path pursuing a Bachelor's degree in Social Science, with focuses on Economics and Sociology. I did not want to be an Economist, nor did I know what career path I could follow with my Sociology. The only thing I was sure of while in university, is that the infrastructural deterioration was frustrating me and I wanted to fix it. I did not know how I was going to do this but I knew I had to. One day, as I walked through the corridors of the college, I read the notices on the notice board as per my usual routine. I came across a call for applications for mini-grants to small projects that will positively impact society, through a program called Students With Dreams, under the Art and Global Health Center Africa. As a student with minimal resources, coming across this notice was life changing. I needed someone to believe in me and some money to get me started. Applying to this program is one of the greatest decisions I ever made. The Art and Global Health Center Africa, through its Students With Dreams Program granted me the funds and support to get my project started. After a successful cycle of my project, the Art and Global Health Center Africa went a step further and encouraged me to apply for a fellowship program with Global Health Corps, upon witnessing my leadership potential and project management skills. This led me to another great life-changing decision: applying to be a Global Health Corps fellow. Global Health Corps mobilizes a community of emerging leaders to build the movement of health equity. In 2013, I became a recipient of a Global Health Corps fellowship, selected for one, of the one hundred and six positions-from four thousand applicants. Global Health Corps has built me up as a leader and has enlightened me on the various paths I can take in my career. Upon completion of my fellowship program, Global Health Corps hired me to be the Malawi Programs and Operations Asscociate. I am also a member of the Rotaract Club of Lilongwe: a service club for young professionals dedicated to service above self, in collaboration with Rotary International and with my leadership training and experience, I had the honour of being nominated President Elect of the Rotaract Club of Lilongwe. I am so proud that one decision I made to be a change agent, led to all of this.

A Key Talent | My greatest talent is being able to harness my creativity. I pay attention to my imagination, thoughts and dreams: for these are powerful tools from which magical ideas dwell from. The way to do this is:
-Do not ignore interesting ideas that pop into your head, no matter how crazy or daring they seem. When I first started Chanco: Project Rejuvenation, people though I was crazy to want to rehabilitate university infrastructure. After successfully rehabilitating some of the university, people saw the method to the madness. You have to see it before everyone else can.
-Have a place where you can jot down all the wonderful things that appear in your head. Ideally, this should be something you can access at all times-such as your cellphone or little notepad, so that you can jot down the idea immediately before it is lost.
-Build on your idea: talk to people, brainstorm, research, and refine.
-Implement your idea: this is the hardest part which people often are afraid to do or don't get to. However, everything else will be in vain if this is not done.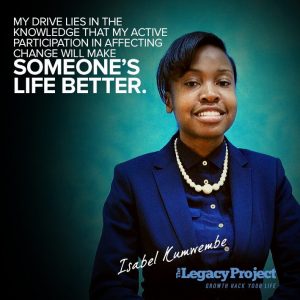 Lessons I Have Learnt | Growing up, I experienced intense anxiety when confronted with having to verbally communicate with people. Any ideas and opinions I had were never voiced. I wanted to be able to influence my world with my voice. I read about a man named Moses, a great historic figure in biblical times who did mighty things, but was a poor speaker. Moses pushed himself to speak, so as to lead. Similarly, every day I would challenge myself to speak. Today I love to speak in front of people and have had the honour of being invited to speak at various gatherings. Lessons I have learnt from this is role-modelling is a fundamental aspect of leadership building: it was through looking to someone that I grew as a leader. Another important lesson I have learnt is that sometimes you have to push yourself out of your comfort zone allowing for vulnerability and this will help you grow. Lastly, age should never be used as an excuse for not doing something. So often I have heard people say: "I cannot do such and such because I am only 23"…or "I am just a kid" or…"I am too young." Being 24 years old I have had the privilege of doing so many wonderful things with my life, and so can you.

Dealing With Doubt | While in university I became increasingly frustrated by the developmental stagnation resultant from the laissez-faire attitude people carried in the face of severe infrastructural deterioration. I felt it was long overdue for someone to step up to the task and do something about this. To address this, I founded CHANCO: Project Rejuvenation: a student driven initiative aimed at rehabilitating dilapidated infrastructure at important institutions in Malawi. Many were skeptical of my motives. Some said the project would fail because it was female led, others said I was doing it for fame. People accused me of taking away responsibility from the Government by doing this project. I received a lot of ridicule from many others who said the idea was good but unrealistic and that it was too big of a task for a student to take on. Others advised me not to proceed with the project, as it would affect my academic performance. In the face of so much adversity, I had to be strong and demonstrate that I was going to do what I had set out to do. News went around fast about this mammoth task I was taking on and people were watching waiting for me to fail. My greatest fear was that maybe I would fail. I had never done anything like this before and I would ask myself: what have you gotten myself into? However my desire to fulfill my goal was unshaken. I knew I could not do it alone, and needed to get people onboard. With the few resources I had and abundant determination, I began to publicize and advocate for the cause, as well as fundraise and purchase maintenance material. One by one, people approached me asking if they could join the cause. Soon a group of students, ready to rebuild their college and advocate for the return of its lost glory was formed. I found strength in the unified power of the people and once people saw that we did what we said we would do-confidence was built into our project. Since 2012, CHANCO: Project Rejuvenation has rehabilitated two lecture rooms at the college, one classroom block at a local primary school in the city of Zomba called Mponda Primary School, and the team is currently rehabilitating the open theatre at the college.

Resources I Use To Stay Inspired | Whenever I start my day, I listen to inspiring music, watch an inspiring sermon, or talk to inspiring people. It sets the tone for the day and how you start your day is very important. I like to compare being around positive energy to passive smoking-you may not be doing anything, but the smoke still affects you-this is the same with positivity. It's important to make a deliberate effort to place yourself in a positive environment where you can learn and grow. I love music and I have certain songs which I use as inspiration anthems to encourage me to do great things. These include: "Go the distance-by Micheal Bolton," "I believe I can fly-by R.Kelly" and "Heal the World-by Micheal Jackson, among other music. Gospel music is my daily bread and reading the Bible.

The Meaning Of Life | For me, the meaning of life is captured in this quote: "life's a garden…dig it!" Imagine life as a bare garden which we are all blessed with. What you reap is what you sow.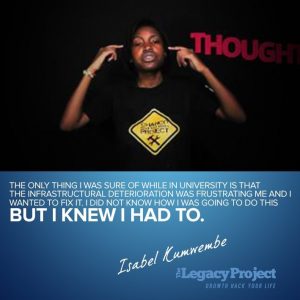 The Best Advice I've Received | While you are still in school, take every opportunity to volunteer, intern, be part of or start your own project. Employers nowadays base employability not just on academic performance but on what extracurricular activities you have done and a demonstrated commitment to a cause.

The Legacy I  would you like to leave | It is my hope, that from my story, I leave a descendible philosophy that everybody has the inherent ability to affect change. We should never be enslaved by the power of dependency, and that we all play a part in building the nation we hope for. I hope my life inspires others to realize that wherever life situates us, we have a social responsibility to be the best we can be for the people around us.