Harald Sitta was born in Vienna, Austria and emigrated to South Africa in 2007. In 2010, Harald and his wife Jutta founded GEPARDISSIMA Ornament Design CC.
My Definition Of Success | Realizing an idealistic aim, for example advocating elegance and style through my enterprise "Gepardissima Ornament Design CC" and combining that with  a sound material income.
I Am Driven By | Trying to be perfect in what I do and making a measurable input in society and economy.
My Highlights | As a former attorney: turning a lost case or a very difficult case into a success. Now with Gepardissima: making in impact even with modest material means. Also SMME's can make an input, I believe in sum they are the most valuable contributors and drivers of an economy.
A Key Talent | As Churchill said: "Never, never, ever give up". Stubbornness combined with a realistic view to the situation. Flexibility within it. Always be ready to hear to critical opinion. Avoid "yes-men", underlings and psychopaths.
The Characteristics Of Success | "Pluck" – persistence, luck, flexibility, intelligence and life-long learning.
Principles I Live By | Fighting spirit within fairness, openness but not naivety, honesty but yet careful.
Critical Skills I Develop | Learning, learning, learning. Never be totally satisfied with yourself. Humor.
How I Use My Mind | Logic and structure as that befits a jurist but sometimes also chaotic thinking helps.
Lessons I Have Learnt | Never take yourself too seriously. Be able to think yourself into the situation of others. Do not overwork yourself. Delegate!!!
Dealing With Doubt | That is natural, only the completely stupid have no fear or self-doubt. Speaking with a good friend about that, that means a person who is honest with you and frank. When in doubt sip a good glass of  South African wine.
Performing At My Peak | I don't because that is not possible. We are all not 100 percent perfect, we have strong and weak days. So you should recognize when you have a weak day and retreat a little bit and feel that you are strong and do the most in that time.
Resources I Use To Stay Inspired | People, books, classic music and social media.
My Future Dreams And Ambitions | Making a long sailing trip, climbing Kilimanjaro, walking El Camino to Santiago again!
The Meaning Of Life | To build something up that survives the own ashes.
The Best Advice I've Received | The lonely hero is a myth. If you like to fight a system you have to build up a system. You achieve only in cooperation.
Advice On Building Wealth | Stop complaining, start working. As Tao said; a march of 10,000 li starts with a first step. Set yourself realistic goals, divide your goals in manageable parcels.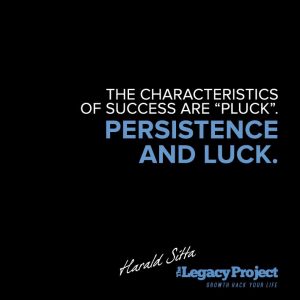 On Inspiring Others | Look for  people who "walk the walk" not "talk the talk". We have too many bluffers and are too tolerant to them. Don't look at what the mouth is doing but what hands and feet are doing.
I Am Inspired By | God, my mother and  "strong" ladies (that's a definite anti-feminist statement)  like Empress Maria Theresia, Margret Thatcher or Condoleezza Rice.
The Legacy I Would Like To Leave | Elegance and style restored in a world which too much tends to ugliness.