Mavericks is a surfing location in Northern California where storm-waves can top out at over 60 feet with many actually being recorded on the Richter Scale!! It is also the home of the Mavericks Big Wave International Surf Contest for a select few of the world's best big wave surfers. Grant 'Twiggy' Baker has won the contest TWICE!! Born in Durban, Twiggy is the 2014 Big Wave World Champion,  a perennial nominee and winner at the XXL Awards. He also claimed the 2007 Biggest Wave award, the 2009 awards for Biggest Wave and Overall Performance and the 2010 Ride of the Year award. 
My Definition Of Success | Success to me is building your life around what is important to you so you have the time and money to live exactly the way you wish. This is not an easy task but, if you work at what you love, it's possible. This has never changed for me.
I Am Driven By | My family and friends are big motivators as well as not wanting to waste a minute of my life. I find it very difficult to sit still and do nothing which is both a positive and negative trait.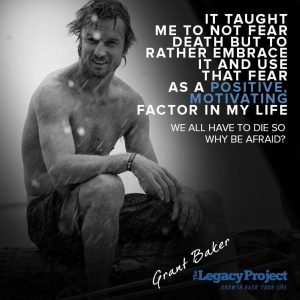 Highlights | Getting married and having my first child this past year have been life changing in a very positive way in my personal life. Having the chance to compete internationally with my surfing and being lucky enough to win a few events along the way has given me the freedom to live the life I always dreamed of.
The Difference Between Good And Great | Dedication, determination and the ability to identify and perform in those important moments.
A Key Talent | My biggest strength is being able to adapt to any situation and this applies to my life and my surfing. I have found that over the years when I first set eyes on a contest venue I can read the ocean better than most and be able to go out immediately and perform at my best. I don't need time to settle into a rhythm or mind set. This is also true in life, from hanging on the beach with the 'lighties' to boardroom meetings, I seem to be able to adapt and perform.
Principles I Live By | Do to others….
My Success Code |  A healthy love for what I do has been the most important characteristic. I just love to surf and I love surfing big waves and this has helped me achieve competitive success. This combined with hard work and an intricate knowledge of my equipment has given me the edge. I believe the best possible training for surfing big waves is surfing big waves so I try to do this as much as possible. All the gym work, swimming and other training is great and it helps, but there's no substitute for actually doing what you are training for. Its the 10 000 hours theory!! I'm also fortunate in the sense that on those important days when it is time to shine and the waves are huge, I somehow get a natural feeling of relaxation and focus. It always comes naturally to me and as I grew older I was able to identify what it was and bring it out when I needed it. It is so hard to explain, but you know the feeling when it comes.
Important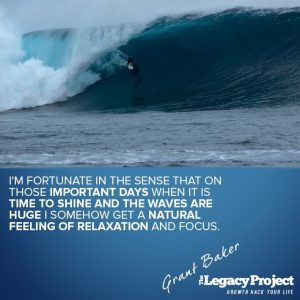 Lessons I Have Learnt | My father passed when I was 17 and that taught me that life is short and to not waste any of it. It also taught me to not fear death, but to rather embrace it and use that fear as a positive, motivating factor in my life. We all have to die so why be afraid?
Dealing With Doubt | Yes, injuries bring me down and dealing with them is never easy, but it's necessary to overcome them and be positive through the negative times as well. Setting myself goals and working towards them is normally the best way to grow through those down times.
Performing At My Peak | For my sport, mental preparation is directly tied into your physical conditioning. If you are ready physically you will be ready mentally so I do my best to always be in the best possible shape so my mind follows.
Resources I Use To Stay Inspired And Growing | I have a personal trainer who works me over and my wife Kate is my motivator. She is my best friend and we go through everything together. She is fiercely supportive and backs me up 100% in every decision I make and without her I would be nothing.
My Future Dreams And Ambitions | Just to stay in good shape and be able to compete at the highest level until I'm 50. If I'm able to achieve this then all my goals will have been surpassed.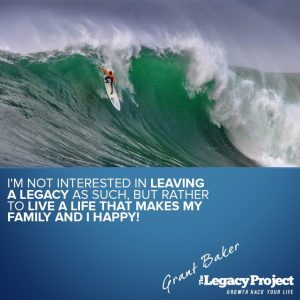 Balancing High Performance With Happiness & Contentment | It is hard to sit still and live in the moment. I'm always thinking ahead and looking to the future and I have to force myself to enjoy the down times. I can get moody and become distant if I'm not always challenged and working towards a goal, but it's gotten better as I've become older and my new daughter has helped immensely.
Best Advice | Make what you love, your work.
The Legacy I Would Like To Leave | I'm not interested in leaving a Legacy as such, but rather to live a life that makes my family and I happy. If we are able to live comfortably and the life we want, then that's being successful for me.