Götz was born in Berlin and has since built businesses all the way to Africa, making him a truly well-traveled EVENTrepreneur. From advanced business planning, consulting, project management and implementation, he has been involved at all levels, of all kinds of business, with all kinds of people (from whom he always inspires the best). He is the analytic side of the partnership, the left brain, if you will, which is why he has an MBA, without actually needing one. Through all of this, his preference has always been to hand-craft solutions, create new things, and solve unique problems. Eventerprise is his third successful venture, but it will be his pièce de résistance.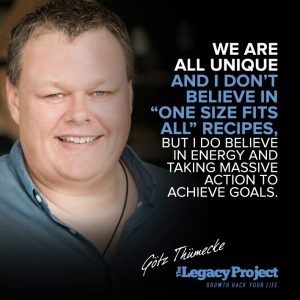 My Definition Of Success | Yes, it has changed and is never accomplished. Currently, it's strongly focused around my latest venture – gearing up my new start-up `Eventerprise' for success.
I Am Driven By | People who have passion and like to move stuff.
My Highlights | Still being married to the coolest woman on earth and having raised (still working on that one) a child who is equally inspiring and awesome. Plus our dog Pippa and cat Zarafina 🙂 are really making all the difference.
The Difference Between Good And Great | Just two factors: the intensity of how they really, really want something and how good they are at controlling their limited beliefs. It is not at all easy.
A Key Talent | We are all unique and I don't believe in a "one size fits all" recipe, but I do believe in energy and taking massive action to achieve goals. It is easier said than done and a skill that is very difficult to teach. I get more powerful and generate more following by just shutting out what I call `noise´ and only listening to very few trusted sources. I think I have more endurance than many others and I simply will not give up. This, coupled with fun is very important for me moving forward and shaking things up. I also believe in an approach which I call "kind and assertive" where I try to add value at all times with an honest and very straight forward but yet kind approach. This might at times irritate people, but on the whole and in the long run it is working quite well.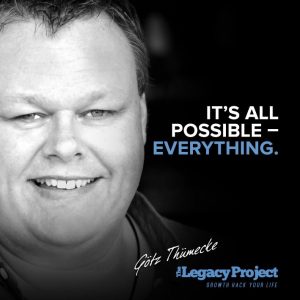 The Characteristics Of Success | I believe in myself and the action. And by doing the same over again and again I get better. Only those who actually 'play on the field' can improve.
Principles I Live By | I have to add value to people and situations. I empower people to bring the best out in them. I want them to believe in themselves and this includes challenging them and not working with those who are not keen to learn or have no ambition.
How I Use My Mind | I try to bring out the best `Götz´. I am not easily impressed by others besides my family and inner circle and of course by my dog Pippa and cat Zarafina. Nor do I take myself too seriously.
Lessons I Have Learnt | It's all possible – everything.
Dealing With Doubt | We all have those moments, but in most cases I have learned something from each of these experiences. I am not the best person to answer this as I am very seldom in that state of mind (thank goodness). Keeping busy helps me to stay on the light side.
Performing At My Peak | With techniques that bring me into a peak state learned by listening to and reading the words of Anthony Robbins – it works like a bomb.
Resources I Use To Stay Inspired | I try to surround myself with inspiring people. I have great friends and I like sport.
The Meaning Of Life | To not take yourself too seriously, serve and add value.
Advice On Building Wealth | Forget it.This is not the right direction/sequence. First, find something you love, deliver and then see what happens. Do it over and over again if nothing happens the first time around.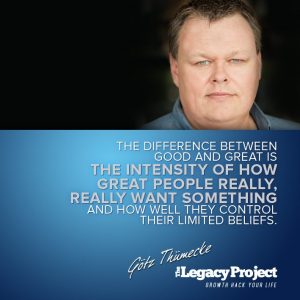 On Inspiring Others | By engaging with them on their terms and challenging them to find their passion and then challenging them a bit more, plus having fun together (yes, and that comes from a German)
I Am Inspired By | Anthony Robbins
The Legacy I Would Like To Leave | Not me. If some friends remember me as a good guy with some humor, I have made it.
---