Gaynor Young was an actress. On 9th December 1989 her life changed irrevocably! She was the understudy for the role of Guinevere in Camelot, being performed at the State Theatre in Pretoria. On the 9th December 1989, Kate Normington, the lead, fell ill. Gaynor was to take over at the afternoon and evening performances. She went on stage that afternoon never having had a dress rehearsal nor a technical rehearsal! But Kate Normington knew that Gaynor would be amazing  in the role. And indeed Gaynor was FAN-BLOODY-TASTIC!!! Then the scene before interval, disaster struck! In the dark, she turned the wrong way or missed her footing during a scene change, who knows? Gaynor  fell off the stage 18 metres down an unguarded lift shaft. As a result of this accident, Gaynor was totally deaf and had just 40% eyesight. She had extensive brain damage and is spastic down the whole of her right side.
But, Gaynor Young is still ALIVE!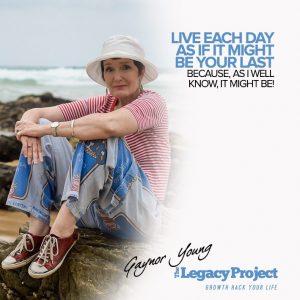 My Definition Of Success | Success now means something very different to when I was an actress before my accident. Then I saw success as being a wonderful actress – being able to do comedy and tragedy with both a flair and depth. Now I see success as being at peace with myself, enjoying life and trying to motivate and encourage people along their life's journey through my blog 'ear 'ear (www.earearblog.com) and my motivational speaking.

I Am Driven By | I have had an incredible life. I have learnt so many lessons on the way – some humorous, others take your breath away with their startling clarity. When I give motivational talks I love to see people's reactions. You see someone at the beginning of my speech looking uninterested. Gradually I notice them leaning in to hear what I am saying. Then perhaps smiling at an amusing anecdote. By the time I finish they will have tears in their eyes as they appreciate how lucky they are to be able to partake in this wonderful thing called life. Just as they are able to learn from me so too, am I able to learn from them. I guess what drives me is the knowledge that I am constantly learning from life!

My Highlights | One of my biggest highlights is making it back onstage again after my 'accident'. It began with the audience almost holding their breath in case something went wrong for me. And then they forgot that this was Gaynor who limped, was deaf and spastic. They became caught up with the stories I was telling, the people I was impersonating…They fell in love with my show! Yes, that show was definitely a highlight.
I am immensely proud of my book 'My Plunge to Fame'. When you have brain damage, it is so difficult to find the words in your head and then get them down on paper. I am also thrilled at my blogs success in terms of it's regular followers that now number thousands. Since it's conception 'ear 'ear's success has also been recognised in the prestigious SA Blogging Awards. I am also tremendously proud of my Motivational Speaking. To get a standing ovation from five hundred people makes me think: Yes, they understood what I was trying to convey!

The Difference Between Good And Great | I think what makes a difference is passion, focus, determination, perseverance and hard work. You have to be passionate about what you are doing to be great. When I was an actress I just loved acting. It was all I ever wanted to do, and I had potential to be great. I wasn't then – I was still new and learning and absorbing. Now I am equally passionate about my writing. I might only be able to write a few sentences a day. My blog takes a week to create, but each word has been given so much attention and consideration.I am not a great writer. Perhaps I never will be but there are moments when I think: Yes, this writing is…is good!

A Key Talent | I am incredibly determined and also equally stubborn! After my accident I was told that I would never act again. And yes, true to those words, I have never acted again. I have 'performed' again as: Gaynor Young telling her story. I have returned to the stage performing in my two one-woman shows 'My Plunge to Fame' & 'Gaynor Rising'. So I think be stubborn, be determined, be brave. Don't settle for second best and always believe in you own abilities no matter what other people might say.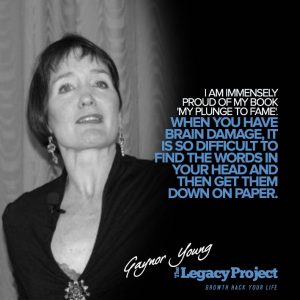 Principles I Live By | I have a great faith. I am not religious. So much evil has been done in the name of "religion"!  I believe in and have a great relationship with God. So I try to live as I think He wants me to live. Be compassionate, be kind, think good about everyone in the first instance and love your family and friends unconditionally. Also live each day as if it might be your last because, as I well know, it might be!

Lessons I Have Learnt | Never ever give up! Believe. Pray. And always dream! I used to dream about being able to hear again. I used to pray to God: "Please, dear Lord, end this deafness of mine. Let me hear again!" God did not end my deafness. Without my CI's, I am as deaf as forty-seven doornails! But nowadays, I am able to "hear" again! He gave someone the knowledge, capability and skills to invent my amazing bionic ears – my Cochlear Implants!

Dealing With Doubt | After my accident I had very dark times. At one stage, I seriously contemplated suicide. When it came to taking the pills, I just couldn't do it. I realised I had to ask for help.  It is important to understand that sometimes we all need to seek help. Don't be ashamed or think of this as failure! Also I came to realise that life is not 'a bed of roses'. There are going to be both good times and bad times in this wonderful life we have ahead of us. That is what makes it so invigorating and exciting!

Performing At My Peak | If I am motivationally speaking I always ensure that I travel up to the venue the day before. I have come to realise that because of my brain damage, I need to rest for a few hours each afternoon. To keep my brain in gear!  I think knowing and recognising one's limitations is important to being successful.

Resources I Use To Stay Inspired | I love the internet, particularly Google. I now spend many hours happily reading up on subjects I might have decided to write about in my blogs. I also have a small circle of friends that I always email my blogs to when they are published and I definitely take heed of their comments and reactions. Finally, my mum is a continued source of encouragement. In many respects, it is her strength, determination and stubbornness that has got me back to where I am today.

My Future Dreams And Ambitions | I want  'ear 'ear  to continue to grow. I would love to publish a book of my favourite blogs. I also   so enjoy speaking and I hope that there continues to be a demand for me on that front. It would also be tremendous doing a third one woman show – one in which I can speak about getting my hearing back and how that has changed my life once again.  Rexleigh Bunyard has just finished writing an opera 'Lost in a Bluebell Wood' about me and my fall. I am looking forward to seeing that go into full production.
The Best Advice I've Received | Life is for Living!

I Am Inspired By | My mother has been a constant source of inspiration to me. She is the one that has kept me going forward. I also have many friends in the acting profession who are a source of encouragement particularly Shirley Johnston who edited by book for me and Dame Janet Suzman who directed me in Othello many years ago and remains a wonderful friend today.

The Legacy I Would Like To Leave | I would like to be remembered as someone who through her speaking and writing made a difference to the lives of others.
 
Useful Links |
YouTube:
https://www.youtube.com/watch?v=VaBepM6k7KM&feature=youtu.be