Gary Player is quite simply, golfing royalty and in a class of his own. He is one of the most recognisable faces in the golfing and in the sporting world. Player is also a renowned golf course architect with over 325 design projects throughout the world.  Black Knight International, the company founded by his son Marc Player, includes Gary Player Design, Player Real Estate, Gary Player Enterprises and The Player Foundation. The Player Foundation built the Blair Atholl Schools in Johannesburg, in South Africa which has educational facilities for over 500 students from kindergarten through grade eight. 
The foundation has since expanded efforts in all corners of the globe, raising funds for impoverished children through four Gary Player Invitational events – in Europe, China, the USA and South Africa.  Over $50 million has been raised in 30 years and counting. He has a long list of accolades including the South African Sportsman of the century in 2000, he is the only modern golfer to win The British Open in three different decades and many Lifetime Achievement Awards. He was awarded the Order of Ikhamanga (in gold for exceptional achievement) by President Mbeki of South Africa for excellence in golf and contribution to non-racial sport in South Africa in 2003, amongst many other prestigious awards. 
I am Driven By | At 80-years-old, I am as driven today as I was when I first turned professional. It is that mentality that made me successful. Early in my life, as a teenager, I set a goal to become a world champion – and accomplished that feat. Many sacrifices were made along the way, but that was part of the process. You have to set goals for yourself. Today, my focus is on raising money for underprivileged children through The Player Foundation. Our goal is to raise $100 million for those in need.
My Highlights | My loving wife of 60 years, my children and grandchildren are the most important parts of my life. And seeing them grow has been the greatest joy of my life. As far as my career is concerned, winning the career Grand Slam on both the Regular Tour and Senior Tour are my greatest golfing achievements.
Difference Between Good and Great | Some people have that "IT" factor. They refuse to loose. They refuse to give up. They thrive under pressure. Greatness sometimes cannot be explained. But it's not always because they are the most talented. The hardest workers put themselves in the best position to achieve success.
A Key Talent | My ability to overcome adversity started when I was a young boy. It's my greatest attribute. My mother died of cancer when I was 8-years-old and my brother left to fight in WWII, soon after, I made a decision to create an extraordinary life for myself. I love the Latin word 'reverisco' which basically translates into 'flourish under adversity.' Thankfully, my father worked his tail off to provide me with a great education, and even took out a loan to buy me my first set of golf clubs. To achieve my goals, I had to outwork the competition, not just rely on my God-given talent. And I still outwork my competition today!
How I Use My Mind | The mind is the most important of all. A person's mind is unbelievably powerful. If you stay positive and focus on your goals, nearly anything is possible. You can train your mind to cope with pain or fatigue. This gives you a huge advantage over any competition or obstacles in your way of success.

Dealing With Doubt | Never let those things enter your mind. If you fear defeat, you will be defeated. Chanel your nerves into positive energy. Stay positive, trust in your training, and know you did everything in your power to put yourself in a position to be successful. Do not fear failure.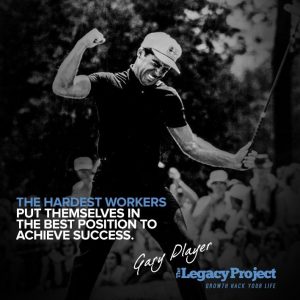 Performing at My Peak | For as long as I can remember, I have taken care of my body by exercising regularly and eating proper food. If you fuel your body with junk or sparsely exercise, you put yourself at an extreme disadvantage. I still hit the gym four or five times a week, eat right and hydrate. I am 80, but honestly I have the energy of a person closer 40!
Future Dreams and Ambitions | I want to spend more time with my family, and continue to stay active. Travel. Rest is rust! The main goal I have left to reach is to raise $100 million for underprivileged children around the world through The Player Foundation. We are well on our way, with a plan to reach this number by 2020.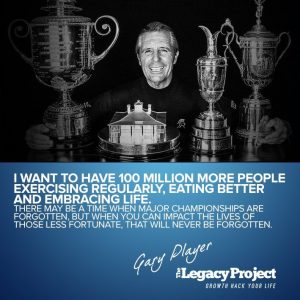 Best Advice I've Ever Received | The great Ben Hogan once told me, "The secret is in the dirt." It made me realize you have to practice harder and longer than your competitors. I derived my favorite saying from this which is, "The harder you practice, the luckier you get."
Legacy I Would Like To Leave | I worked so hard during my career as a professional golfer, so I don't really have any regrets and am satisfied with how I impacted the game globally. However, it is not important to me to be remembered as someone who won the Grand Slam or Major championships. When my time is up in this world, I want to be remembered as a person who changed people's lives. I want to have 100 million more people exercising regularly, eating better and embracing life. There may be a time when Major championship are forgotten, but when you can impact the lives of those less fortunate, that will never be forgotten.