In 2009 a shoeshine boy told Fred M. Deegbe that the shoes he had just purchased were IMPOSSIBLE to make in Ghana. Fred, a disappointed banker at the time, believed Africa was full of potential and that luxury products could be made here and sold in the finest shops all over the world. Fred knew that with future success, there would be huge potential to impact his society and decided that proceeds of the company would go to empower creative entrepreneurs. Heel The World (HTW) was officially launched in 2011.
 

I Am Driven By | Being the underdog. As an African competing in the luxury world it is an uphill battle. The media has portrayed us so poorly, even we as Africans doubt our own capabilities. We are a wonderful, beautiful and capable people of competing with the best in the world in any field. I am an underdog and will not stop till I am the number 1 in my field.

My Highlights | In 2011 I was a disappointed banker who had been labeled as a 'waste of financial resources' by a mid-level manager in the bank. A year later I was flown to the World Economic Forum where I shared a panel with Dangote, The Prince of Netherlands etc. Pretty cool for a shoemaker, right? Just last year I was featured on both CNN and BBC. When I started Heel The World, I knew it was a special venture and so the publicity from CNN and BBC confirmed that.

The Difference Between Good And Great | Intensity. Great people don't want to just participate, they want to win all the time.

A Key Talent | I think one thing I have more than anything else is emotional intelligence. My ability to read people and sense what they are feeling helps me in negotiations, presentations etc. It is important to be 'conscious' of people's feelings because chances are if you leave them feeling good, you will have a good business relationship. Before people had work titles, they were human beings-fathers, mothers, sisters, brothers ..etc These are their primary personalities which indirectly play a role in how they operate professionally.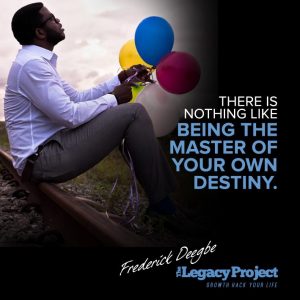 Lessons I Have Learnt | Know who you want to become. This will guide your thoughts and actions

My Future Dreams And Ambitions | I believe that some of the best things in the world can come from Africa. Heel The World is not just the name of my company, it is a statement that this is the first step in our journey and adventure to show the world that Africa has so much more to offer. I like beautiful things and so even though I have started with shoes and leather accessories, I plan on going further with jewelry, furniture, clothing, art and music. If it's beautiful and its from Africa

The Meaning Of Life | To live is to suffer. To survive is to find meaning in the suffering. When I began Heel The World I went through a lot of challenges. One main reason was that I was an African banker trying to compete with the likes of John Lobbe and Berluti. I gave everything I had and I remember falling sick quite frequently. But eventually sales increased, our shoes became more beautiful, I employed more people and eventually became my own boss. There is nothing like being the master of your own destiny.

The Best Advice I've Received | Show me the girl.' A friend of mine urged me to stop talking so much about the Heel The World idea as if it was the most beautiful girl in the world and encouraged me to actually start the company. Ever since I have had the less-talk, more action approach with my business.
Advice On Building Wealth | Do it while you are young, broke and single. You will literally have nothing to lose. Learn from your mistakes, iterate and come back harder. Doubters will turn to believers once you keep improving yourself.

The Legacy I Would Like To Leave | He loved. He loved his family. He loved his job. He loved his employees. He loved his God. Love has brought out the best of humanity in the worst of times. Love has built us cars that run without water during wars. Love has built us cell phones to call people we care about.
Love has created movies that uplift us. Love has created collections that have taken our breath away, and at the same time created jobs for 1000's of people. I want people to say everything I did, I did out of love so that I can continue the legacy of people who changed the world because of love