Currently the President and Chief Executive Officer of the Frances Hesselbein Leadership Institute, founded as the Peter F. Drucker Foundation for Nonprofit Management and renamed in 2012 to honor Hesselbein's legacy and ongoing contributions. Hesselbein served as the organization's founding president and chief executive officer from 1990 to 2000 and most recently served as chair of the board from 2000-2010. She held these positions following a distinguished tenure as CEO of the Girls Scouts of the United States of America from 1976 to 1990. As a "pioneer for women, diversity and inclusion," Hesselbein was awarded the Presidential Medal of Freedom, the highest civilian honor in the United States. A distinguished author and board member for several nonprofit and corporate boards, she serves as editor-in-chief of the award-winning journal Leader to Leader and is the coeditor of twenty-seven books in twenty-nine languages. She has written numerous articles and books on effective leadership, including the best seller, The Leader of the Future, Hesselbein on Leadership, and her most recent publication More Hesselbein on Leadership.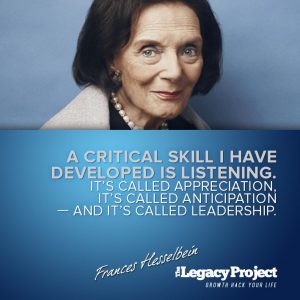 A Key Talent | Respect for all people.

Principles I Live By | Leaders of the future manage for the mission, manage for diversity, and manage for innovation, or they are part of the past.

Critical Skills I Develop | Listening. It's called appreciation, it's called anticipation — and it's called leadership. Focusing on task (the work we do), not gender. Moving beyond the old assumptions, practices, and language that can be barriers to equal access. One barrier is placing women in a special category of gender – "women leaders."

The Best Advice I've Received | Respect for all people.

Lessons I Have Learnt | This could be anything from very simple small lessons, too much larger bigger lessons.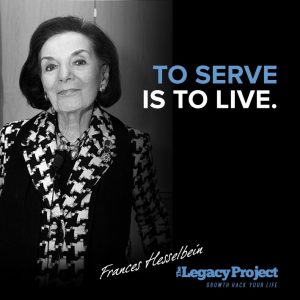 Always be on time. I grew up in the mountains of western Pennsylvania, where 5:30 means 5:30. The first time I met Peter Drucker, it was because we both showed up on time. It was the beginning of a lifelong friendship.

Resources I Use To Stay Inspired | Peter Drucker's collection of leadership wisdom; the many contemporary books and films on management and leadership sent to me by today's leadership practitioners; and the Millennial generation — young people ages 18 to 29, the greatest generation since the 1930's and 40s.

On Inspiring Others | Engage great leaders, thinkers, from all three sectors in all aspects of our organization's leadership and management challenges and opportunities. Practice "Ask, don't tell."
I Am Inspired By | My grandmother. When I was 8 years old, she taught me, "Respect for all people." She remains my role model to this day. Abraham Lincoln. In a time when our country was torn apart he found the message and the language to bring the country back together. General Lloyd J. Austin III. General Austin, with whom I have worked since 2007 when he invited me to speak to the officers of 18th Airborne. He is now Commander, U.S. Central Command. His quiet and respectful demeanor, combined with his love and devotion for our country, his deep respect for all people makes him one of the best communicators I have ever met. 9. What Legacy would you like to leave? "To serve is to live," is my message, my legacy for leaders of the future. Part of that legacy is a passionate respect for all people and a total commitment to sustaining the democracy.