Dr Tony Turton is one of South Africa's revered authorities on water and as a Professor at the University of the Free State, he seeks to continue the impetus of his valuable work by empowering those that follow him. Specifically, Dr Turton has tackled water security around the mining industry. As a project Trustee on Reclaim Camissa, Dr Turton and team hope to rehabilitate the very first river that was ever used to sustain European settlement in the 1650's. Being a small river, Camissa defined the later existence of the city of Cape Town and it also generated the very first water law in South Africa. The story of Camissa highlights the unintended consequences of people's actions and the opportunity to collectively do something to reverse these processes. By pointing out that we collectively can choose to use water to either deepen our democracy and create a more just society, or that we can choose to continue abusing water as a resource, ultimately at our own peril as a species, gives an insight into a big heart and a caring soul. Dr Turton reveals more about his interesting self here:


About my Life Mission | Doing the best I can with what I have, but recognizing that teams are more effective than individual efforts.

My Definition Of Success | Creating ladders so that others can climb to the next rung. Recognizing that ingenuity happens on the cusp of chaos.

I Am Driven By | Curiosity and a desire to coach others to exceed their own expectations.

My Highlights | Seeing my first poetry published. Making peace with my enemy. Recognizing the ability in others when they only have doubt. Watching my grand children grow up to become responsible and useful citizens.

The Magic in me Originates From | The recognition that I am insignificant as an individual, but relevant only insofar as I am part of a greater whole.

The Difference Between Good And Great | The altitude I manage to attain without losing my focus.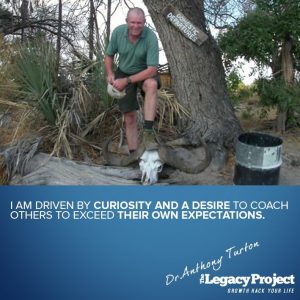 A Key Talent | Seeing opportunities when others see chaos.

Principles, Values and Ideologies I Live By | No drama, just good karma.

How I Use My Mind | To do mental gymnastics by traveling to places not possible under normal constraints.

Lessons I Have Learnt | Humbleness is an essential ingredient of success in teams.

Dealing With Doubt | Having a clearly defined objective while keeping the team together.

Resources I Use To Stay Inspired | Speaking with wise people in humbleness.

My Future Dreams And Ambitions | To write more poetry and develop my skills as a storyteller.

The Best Advice I've Received | The harder you try the luckier you become (Gary Player).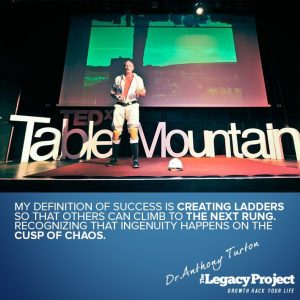 Advice On Building Wealth | Use the 1-2-3 Approach. 1 – develop a really good idea. 2 – populate that idea with enthusiastic and competent people. 3 – money always flows to good ideas implemented by enthusiastic and competent people. Too many people chase 3 without considering 1 & 2.

I Am Inspired By | The way that people obviously worse off than myself manage to live the best life they can under their circumstances.
Useful Links: