Grand master READY D is without a doubt SA's number one DJ. He won the SA DMC Championship four times and also won the Western Cape Regional Champs and DJ of the decade awards. Various publications rated him amongst the top thirty Hip Hop DJ's in the world. Perhaps better known as the DJ for (POC) Prophets of da City, He toured Europe extensively with POC and BVK for a period of 12 years – performing alongside groups like Public Enemy, Fugees, Ice T, Spearhead, James Brown, Rob Swift, Steve D, Will Smith, Black Eyed Peas, DJ Spinna, Jazzy Jeff, Slipnot, Cypress Hill, Eve, Akon, Grand Master Flash, etc .If not behind the Decks – he is producing music for various Artist and TV shows. He enjoys superstar status with a cult following all over the country: Definitely the most exciting DJ in SA to see perform live.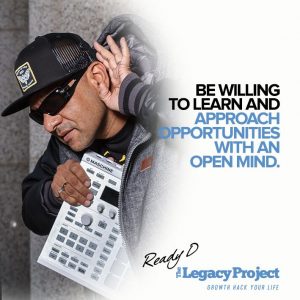 My Definition Of Success | I view success as personal growth and always possessing the will to learn. As an artist it is a blessing to be able to share one's work and experience in this day and age.

I Am Driven By | I am motivated by my family's support. I feel that I have much to discover and share with the masses. Integrating new technology with my work and the possibilities of exposing evolving skills also keep me motivated.

My Highlights | My life and career are pretty much integrated. I am really proud of the work and the impact of the various projects and groups that I worked with. Prophets of Da City and BVK took me all over the world and that allowed me to get added experience and learn new things.

The Difference Between Good And Great | I think that great people do not fear the journey to success. People that are good at what they do are yet to discover and embrace the efforts to become great.

A Key Talent | I think consistency is critical to becoming successful. Always implement a degree of respect and principle in what you do. Never burn bridges because our industry and society is somehow interconnected. Be willing to learn and approach opportunities with an open mind.

The Characteristics Of Success | I try to encompass all of the aspects that I mentioned above. I always push to deliver my best and remain consistent with that attitude. I feel that the basics such as being punctual, mindful of your audience and your clients are extremely important.

Principles I Live By | Never waste time. There are values in working and relaxing. We are human beings first before all other segregation orientated titles and groupings take preference.

Critical Skills I Develop | Apart from being caught up in being an artist – I try to get a broad perspective of the industry and that helps me to plan the way forward. I also managed to diversify my portfolio.
How I Use My Mind | I try to maintain a positive mindset at all times. I always think about outcomes that will have a meaningful impact. Being conscious of pitfalls and challenges help to put options in place. I'm a critical thinker and I always have long term ideas going through my mind.

Lessons I Have Learnt | People will always have a different point of view and opinion of what you do. Never take it personally especially when being met by critics.

Dealing With Doubt | I am blessed and grateful to have a supportive wife and family. A bad time for me was the first few months starting as a radio presenter. Many people did not accept a voice with a strong Cape Flats accent and implementing the local dialect on a mainstream platform. I was challenged with harsh words by many people. I became despondent and questioned myself all the time about what I was trying to accomplish there. After chatting to the positive people in my circle – I managed to re-compose myself and soldier on.

Performing At My Peak | I remain positive, prepare to the best of my ability and I treat every event as a first-time opportunity.

Resources I Use To Stay Inspired | Movies are one of my routes to escape and relax. I am lucky to have well-informed people to chat to on a regular basis. Documentaries, online sites and magazines related to my interest are where I gather a lot of information.

My Future Dreams And Ambitions | I am currently in the beginning stages of a youth development project called G-CAP that I would like to see grow. I would like to do more work in film and TV. I am involved with motorsport too. On that front – I would like to improve as a driver. The Scratch Lab DJ Training Facility is another project that I would like see grow and have national and international reach.

The Meaning Of Life | I feel that question is too complex and I am yet to grow to a level to be able to give the appropriate answer.

The Best Advice I've Received | Never give up. – It's basic, but filled with wisdom and wonder.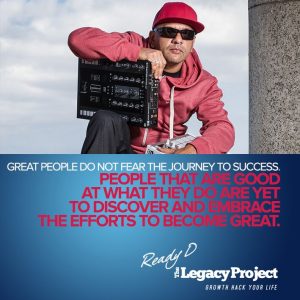 Advice On Building Wealth | Be conscious of your desire and understand why acquiring wealth is your priority.

On Inspiring Others | I believe that respect is a key ingredient to maintaining a healthy work environment. It's important to listen and learn to understand the variables. characteristics and dynamics when working with different people. Be prepared to apologize with sincerity when at fault.

I Am Inspired By | My mom has had a huge role to play as a role model and I am inspired by other people's success.

The Legacy I Would Like To Leave I would like to be remembered as someone that refused to be victimized by our social and political circumstances.