Dean Radin, PhD, is Chief Scientist at the INSTITUTE OF NOETIC SCIENCES (IONS) and Volunteer Faculty in the Department of Psychology at Sonoma State University. Before joining the research staff at IONS in 2001, he held appointments at AT&T Bell Labs, Princeton University, University of Edinburgh, and SRI International. He is author or coauthor of over 200 technical and popular articles, a dozen book chapters, and three books including the award-winning The Conscious Universe, Entangled Minds, and the 2014 Silver Nautilus Book Award winner, SUPER-NORMAL.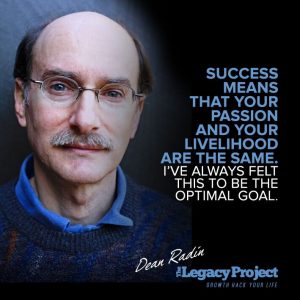 My Definition Of Success | Success means that your passion and your livelihood are the same. I've always felt this to be the optimal goal.

I Am Driven By | Curiosity about myself, humanity, and Nature.

A Key Talent | Willingness to take risks.
 
 
The Characteristics Of Success | Clarity of purpose, persistence, diligence, competence, creativity, and tolerance of ambiguity.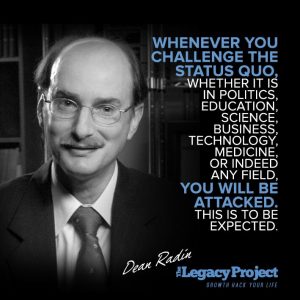 How I Use My Mind | Achievement of my goals have been directly related to how clear those goals were visualized. Hard work and planning were also required, of course, but knowing precisely what I want to achieve is equally important.

Lessons I Have Learnt | Whenever you challenge the status quo, whether it be in politics, education, science, business, technology, medicine, or indeed any field, you will be attacked. This is to be expected.

The Best Advice I've Received | Taking Joseph Campbell's saying, "Follow your bliss," to heart. This requires knowing what your bliss is, of course. So if you haven't found it yet, it is your duty to yourself to discover what it is.

Photo credit |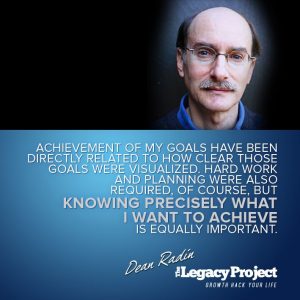 Thank you to Stéphane Allix for the first and third picture and the movie "What the Bleep do we Know." For the second picture used in this Interview. Furthermore a thanks to Jim Johnson for the profile picture used in this Interview.
 
 
 
 

Click on the link to see a Dr. Dean Radin present at The Leadership Energy Summit Asia 2014 seminar: