David Cohen is a serial entrepreneur and the founder of Pinpoint Technologies, iContact.com, and Earfeeder. He is also an angel investor with a portfolio of more than 100 companies. Cohen is best known as the founder of Techstars, a mentorship-based startup accelerator. Cohen delivered the keynote speech at RailsConf2012, a conference dedicated to Ruby on Rails, an open source web application framework for the Ruby programming language. He and Brad Feld co-authored Do More Faster: Techstars Lessons to Accelerate Your Startup.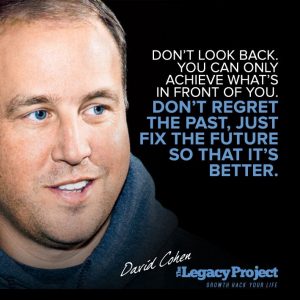 My Definition Of Success | To me success is about, at this point in my career, it's about having made an impact, impacting lots of other people. You know I've had sort of financial success and my own start-up success, but now I'm really focused on impacting others, and doing things that will make sure that those people impact even more people, and I think Techstars is sort of my expression of that. You know, I drew inspiration through things like start-up weekend, start-up week, education, do things like start-up max, acceleration, do the Techstars accelerators, venture capital through Techstars ventures. You know I think we're teaching a generation of entrepreneurs the ideas of give first. We're teaching it to mentors in corporations as well. And to me that success is having made an impact in how much mentorship works globally.

The Difference Between Good And Great | Having a mission, a personal mission that goes beyond just the financial rewards. But I think the people who are great at what they do, are mission-driven and won't rest until the world works differently or their product is able to impact people, so…that's where I would point entrepreneurs.

The Characteristics Of Success | I mean I think network building, honestly, like just personal network. I'm an introvert, I wasn't very good at that, you know, growing up. I don't think I was a particularly good networker, even until I was into my mid-thirties. I was a geek, a programmer, very heads-down all the time.
And I think as I matured I realized how much value there is in networking, in business connections, through, you know, fund-raising, through partnership…and you know, just sort of giving first by helping other people that you meet and then leveraging that network value over a long period of time. So I think that's been a big one, and I would encourage you to, you know, just get out, put yourself in situations where you have to network.
And it's not about, you know, just attacking everybody, it's about finding a few people that you can do something for, as opposed to they can do something for you. You're going to find out how to help them and then go from there, and I think that builds real network and a real relationship.

Principles I Live By |  Integrity, transparency, honesty…I think you know if we all just sort of tell the truth, as hard as it is, or…you know, and act with integrity, the world would be a much better place. And I think most people actually do that, most of the time. And if everybody could do it all the time then I think the world would be a lot better.

How I Use My Mind | I'll quote Yoda here: "Do or do not, there is no try." Because I think being in the mind-set that I am going to raise it this round, I am going to build a company. I am building a company that does this. It's talking about an active, you know, sort of tense that…not, I'm trying to do something, but I am doing it. I think it, it is a mind-set, and Yoda nailed it when he said, "Do or do not do, there is no try."

Dealing With Doubt | I think the first time I raised a venture fund. I raised a five million dollar small fund. I cut it off at five million because I had a lot of doubt about whether or not I'd be a good investor. And you know, companies in that fund include (Syndreds, Something Measured, Oeuvre, Twillia, 4.36), you know, it's an outstanding fund.

But I really had a lot of doubt and I think the way you overcome it is you know, just do it, and recognize that doubting yourself and impostor syndrome, you know, in other words being, you know…having other people think you're really good at something, you kind of feel like you're an impostor. It's all just totally normal stuff. I mean I think people have that being a CEO or anything. But my big one was when I raised that first fund and now I'm on my third fund.

Performing At My Peak | I'm not always performing at my peak. I think I try to recognize when I'm tired. I had a month off coming up to the first time in eight years. I mean I've never done that. I scheduled that nine months ago when I felt like I wasn't as optimized as, sort of at my peak as I wanted to be.
So I think just recognize that you're not always going to be at your peak. Find ways to heal it and deal with that. And for me it's just taking a little time off and being with family, gets me to cut it again, to go back to work.

My Future Dreams And Ambitions | I'd like to, again, have just made an impact on entrepreneurship around the world where, you know, start-ups are created differently. They're supported by mentors and corporations who are giving first and you know, probably getting later but not viewing their role in entrepreneurship as just transactional.
A world where it's ok to fail if you're building a start-up. I know in the US it's very common and elsewhere it's not. You know, just to me to have an impact on others through entrepreneurship which in itself is an (6.13) right? You're building products for other people. I think it is very powerful and I want to continue to you know, to achieve the goal of helping more, start-up communities around the world be, be great.

The Meaning Of Life | I don't want to get too deep into it, but I think it's being happy, right, or…if you can be happy then you've achieved the meaning of life. Um, we're flitting around on a rock in outer space and um, you could say it's all pointless, but I think while you're here you've got to make sure you're enjoying it.
Figure out how to balance your life so that it's…work that you enjoy, and er, all of life is, is happy for you. And if you can achieve that you've ultimately been successful. If you listen to people on their deathbeds um, they never said they wanted to work more, they always said they wanted to be with their family more, or just have more fun. And so I think to me, just being happy is the meaning of life.

The Best Advice I've Received | Don't look back. You know you can only achieve what's in front of you. Don't regret the past, just fix the future so that it's better

Advice On Building Wealth | You know, just get balance.

On Inspiring Others | I think it's about hiring and surrounding yourself with people that believe in the mission. And getting rid of people that aren't strong cultural fits. We've had to do some very hard firings over the years at Techstars and you know, even of higher performers who just didn't view the mission the same way. And I think you really have to protect that culture, to make sure you reach your goals.
I Am Inspired By | Well I have a lot. One is my father who passed away. He was an entrepreneur. Died when he was 62 ½. He built his own business and was always a great role model for me and made me want to be an entrepreneur. So I think that's certainly one. Others who've given first to me…Brad Phill, Jason Mendelson, and  many others that have helped me, or encouraged me…when they didn't have to, and kind of gave first, and taught me the value of that. And so I think they're huge role models too.

The Legacy I Would Like To Leave | I'd like someone to say, you know, "David Cohen impacted entrepreneurship in a positive way. And the way that start-ups get created today is fundamentally different because of, in part, things that David did or pioneered."