The World Economic Forum named Dave Duarte a Young Global Leader in 2014, and not without reason. He is one of South Africa's most influential individuals in the fields of media and digital marketing. Amongst many achievements and accolades, Dave is the founding director of the Ogilvy Digital Marketing Academy, helping the advertising agency group stay ahead of digital transformation. Most recently, he combined his expertise in digital marketing with his passion for education to create Treeshakes, a pioneering marketing consultancy. As a South African digital marketing community builder and social entrepreneur, Dave strives to inspire everyone he encounters through his bold and fearless pursuit of his dreams. We invite you to let him do the same to you: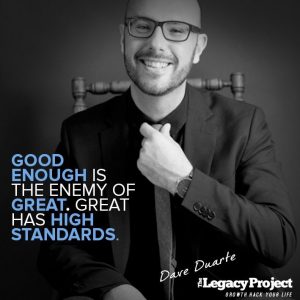 About my Life Mission | To inspire, connect, and inform people who are working to make the world a better place for others.
My Definition Of Success | Success is a temporary state of satisfaction with one's accomplishments. I tend not to dwell on it too much as it can lead to complacency. Rather I choose to be increasingly effective and grateful.

I Am Driven By | I am driven by gratitude and the hope for a better future.

The Magic in me Originates From | Commitment to deadlines. When I'm fully committed to an outcome my mind stops looking for excuses and rather for solutions. I've found that I can produce 'magical' results by committing to ambitious projects wholeheartedly and not giving myself the option of backing out.

The Difference Between Good And Great | Good is easy, just say yes to a lot of things, work hard, and keep learning. To be great, you need to say NO a lot more, you need to be more discerning about what work you do. Good enough is the enemy of great. Great has high standards.
A Key Talent | Digital Intelligence is a key strength I've developed, and con-tinue to develop. I see Digital Intelligence as the ability to use online tools and technologies to be more effective at everything we consider valuable in our world. From security and privacy to productivity and inspiration. I think Digital Intelligence gives us the capability to more effectively navigate and make sense of an increasingly complex world.
I am someone who loves nature, and I value the opportunity to "get real" with the people I love and work with often. So digital isn't a replacement for real life, it is an enabler of great experiences and better decisions.

Principles, Values and Ideologies I Live By | Be First. A lot of times we sit in uncertainty waiting for someone to get back to us, to acknowledge us, to be our friend, to give us the deal. I believe in initiating these things. Be the first to acknowledge a stranger or introduce yourself. Be a good friend first, and be the first to apologise or forgive. Be the first to be generous. Be the first to offer your services or initiate a deal. There are so many lost oppor-tunities because we wait. I remind myself constantly to be first in my work and life.

How I Use My Mind | I make the most of my mind by regularly journaling and reflecting on my goals and priorities in life. When you have priorities and goals your mind starts putting together the pieces and noticing things to help you along.

Lessons I Have Learnt | I've learned that good sleep is essential. I've learned the value of having mentors and honoring those relationships by giving back where possible. That opportunities in life mostly come through people, and my ability to align my capabilities with their needs. I've learned the value of authenticity. That everything we do contributes to who we are, and that determines what we do and the results we get.

Resources I Use To Stay Inspired | Besides books and audiobooks, which are my daily staple, I go to real-world conferences and courses. There's nothing like the full immersion and energy of a multi-day event to deepen connection and insight. One of my mentors calls this "being first witness": going and seeing things for yourself rather than reading about it second-hand.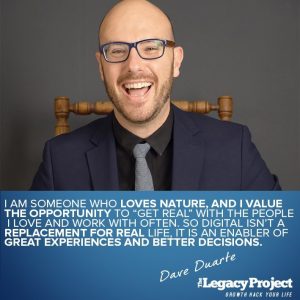 The Best Advice I've Received | Someone once told me that the quality of my life is determined by the quality of my relationships. There is nothing truer for me.

Advice On Building Wealth | Be patient and invest consistently over time. This applies to every aspect of life, not just financial wealth. I believe in the power of patient practice and optimisation.

I Am Inspired By | The name Treeshake is inspired by Nelson Mandela's birth name, Rolihlahla, which is roughly translated as 'pulling a tree branch'. I'm inspired by the people who are brave enough to challenge the status quo and to lead change. People like Lewis Pugh in the environmen-tal field, Ravi Naidoo in the design field, Trevor Ncube in media, and Elaine Rumboll in the education field are inspirations.