Darren Clarke is Golfing royalty. In the 1999 Smurfit European Open he became the first player on The European Tour to shoot 60 for a second time, having achieved it first in the 1992 European Monte Carlo Open.  In 2002 he became the first player to win the English Open three times and in 2003 became the first player outside Tiger Woods to capture more than one World Golf Championship title. He has won 22 tournaments worldwide on a number of golf's main tours including the European Tour, the PGA Tour, the Sunshine Tour and the Japan Golf Tour. Clarke dedicates a great deal of his time to the Darren Clarke Foundation, which not only helps further the development of junior golf in Ireland, but also now raises money for Breast Cancer Awareness.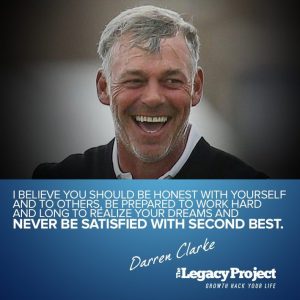 My Definition Of Success | Success to me is getting the best out of whatever talent I was blessed with.  I have always felt this way and I have endeavoured to try to achieve it through hard work and dedication… While enjoying life at the same time.

I Am Driven By | I am driven by desire and my desire today is just as strong as it was the day I realised I wanted to be a professional golfer.

My Highlights | Winning the Open Championship was the highlight of my career and being made Ryder Cup captain ranks very high up there too.  One is the greatest championship in the world and the other is the highest honour the European Tour can bestow on any of its members.

The Difference Between Good And Great | The difference is simple – desire.   If you are good at something then it' is up to you just how far you want to take it.  Some people are happy to be good and others have the desire to be great.

A Key Talent | Difficult for me to say, but again it comes back to desire.  It's never left me. I have never been satisfied with what's gone before so however much I won I always wanted more.  Golf is a game you continue to learn no matter how long you have been in it.   Perfection in golf is unattainable so you just have to keep on striving to get better and better.  My longevity can be put down to the countless hours I have put in on the practice range.  As Legendary South African Gary Player once said:  'The more I practice, the luckier I get'.

The Characteristics Of Success | The three D's – Desire, drive and dedication.

Principles I Live By | I believe you should be honest with yourself and to others, be prepared to work hard and long to realise your dreams and never be satisfied with second best.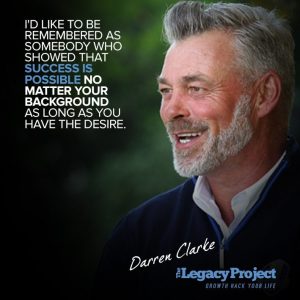 Critical Skills I Develop |  I was quite a long way into my golfing career before I realised that the world's greatest players always had excellent short games.  That area is the one I have worked on most and I emphasize to kids just how important it is to work on that side of the game.  Everybody wants to whack the ball a long way, but it is what you can do with the ball from 100 yards and in that's the most important.

Lessons I Have Learnt | In my career, it would be that you should never expect to get what you think you deserve.  You have to be able to deal with failure far more than success because you have far more of one than the other.

Dealing With Doubt | I'm not sure I've ever conquered self doubt. It's something you have to deal with each and every time it happens and you might not always react the same way.  Not sure I've ever faced fear in my career. Self doubt is different to fear.  I've never been frightened of a challenge, but at the same time I've not always been convinced I could achieve whatever I've taken on.

Performing At My Peak | There are so many variables in golf, you can never ensure anything. But you can try to eat the right things, try to keep in top physical shape and never shirk practice.
My Future Dreams And Ambitions | Now that I'm Ryder Cup captain for the next match, I'd dearly love Europe to beat America again.

The Best Advice I've Received | Practice, practice, practice.

I Am Inspired By | I am inspired by all those people who make the most of whatever abilities and talent they were blessed with.

The Legacy I Would Like To Leave | I'd like to be remembered as somebody who showed that success is possible no matter your background as long as you have the desire.