Daniela Szasz is the founder & CEO of Go4Values. After 16 years of a very successful career with network marketing and over 19 years of entrepreneur experience she continued working as a consultant, public speaker, trainer, coach, and writer.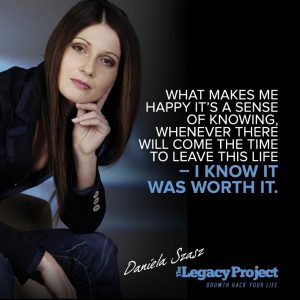 My Definition Of Success | I see success as a whole, not only in business but also in my private and spiritual life. Everything less than this, isn't what I consider that should be called success, at least not for me. When I was 23 years old and build up my first career, I thought at the beginning developing a huge career, is enough. But during I was struggling and building it, I realized more and more, that it is not enough.
 
I Am Driven By | My inner sense of potential – to give the best I have – over and over again.

My Highlights | Well, it is not really being proud, it is more like feeling more and more an inner fulfillment. I was able to build up 3 career in my business life – and in the same time to develop my inner spirituality and also private life. What makes me happy it's a sense of knowing, whenever there will come the time to leave this life – I know it was worth it.

A Key Talent | Endurance, clarity, hope and hard work. Most people never succeed in what they want – because they just don't manage staying when it's getting hard. And it will get hard – before you reach what you want. It will get even very hard sometimes – and you wish to just run away, hide and start something new. When it is getting hardest then you should stay.

Principles I Live By | If you see my website www.danielaszasz.com – then you know the answer on this.. My trade mark – Go4Values – is the answer. All the Explanation are giving on my site, if u look under – About me. Shortly it will appear also in English.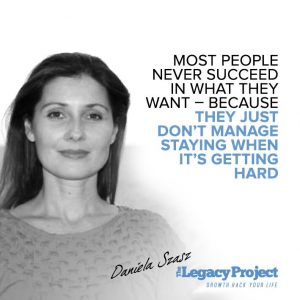 How I Use My Mind | I always think like –  what can I do – or – how can I change this-  or – what else can I do.. I try to force myself in solutions.

Lessons I Have Learnt | The more success you have, the more people appear as your friend. But not everyone is a real friend how appears like that.

Dealing With Doubt | Of course I experienced fear. Many times. I don`t try to run away from that. I stay with it for a while.. and then I go further even though it is there. Same with doubts.

Resources I Use To Stay Inspired | I don`t really need longer books for motivating myself. I use meditations to get my inner strength and then I go for the day. For over 20 years, I used of course plenty of books and seminars.
The Meaning Of Life | Living a fulfilled, clear and valuable life.

The Best Advice I've Received | "Work harder on yourself then on your business."

I Am Inspired By | Mr. Jim Rohn where I attended his classes for over 12 years and some other teachers who are not known at all.