A self-professed "simple, Buddhist monk", the 14th dalai Lama is recognized across the globe as a symbol of hope and an advocate for change. Born July 1935 as Lhamo Dondrub, the Dalai lama is the spiritual leader of Tibet, who travels around the world, advocating for the welfare and autonomy of Tibet under Chinese rule. He dedicated his life to creating a better life for Tibetans by presenting reforms that democratize Tibet.
In 1989 the leader won a Nobel peace Prize for his remarkable efforts.
My Definition of Success | The important thing is that men should have a purpose in life. It should be something useful, something good.
I Am Driven By | My main concern is meeting with public because my main commitment, main interest is promotion of human value, human affection, compassion and religious harmony.
My Highlights | I am confident I will set foot again in Tibet in my lifetime. 
The Difference Between Good And Great | Remember that great love and great achievements involve great risk.
A Key Talent | I find hope in the darkest of days, and focus in the brightest. I do not judge the universe.
The Characteristics Of Success |Judge your success by what you had to give up in order to get it.
Principles I Live By | My religion is very simple. My religion is kindness.
Critical Skills I Develop | Inner peace is the key: if you have inner peace, the external problems do not affect your deep sense of peace and tranquility…without this inner peace, no matter how comfortable your life is materially, you may still be worried, disturbed, or unhappy because of circumstances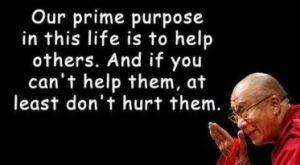 How I Use My Mind | Sleep is the best meditation.
Lessons I Have Learnt | Learn the rules so you know how to break them properly.
Dealing With Doubt | With realization of one's own potential and self-confidence in one's ability, one can build a better world.
Performing At My Peak | If you can cultivate the right attitude, your enemies are your best spiritual teachers because their presence provides you with the opportunity to enhance and develop tolerance, patience and understanding.
Resources I Use To Stay Inspired | My faith helps me overcome such negative emotions and find my equilibrium.
My Future Dreams And Ambitions | As long as I am alive, I am fully committed to amity between Tibetans and Chinese. Otherwise there's no use.
The Meaning Of Life | Our prime purpose in this life is to help others. And if you can't help them, at least don't hurt them.
On Giving Advice | I will not propose to you that my way is best. The decision is up to you. If you find some point which may be suitable to you, then you can carry out experiments for yourself. If you find that it is of no use, then you can discard it.
Advice On Building Wealth | In order to become prosperous, a person must initially work very hard, so he or she has to sacrifice a lot of leisure time.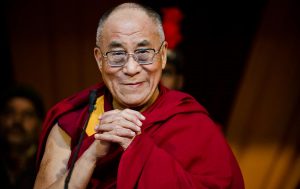 On Inspiring Others | Every day, think as you wake up, today I am fortunate to be alive, I have a precious human life, I am not going to waste it. I am going to use all my energies to develop myself, to expand my heart out to others; to achieve enlightenment for the benefit of all beings. I am going to have kind thoughts towards others, I am not going to get angry or think badly about others. I am going to benefit others as much as I can.
I Am Inspired By | This is my simple religion. There is no need for temples; no need for complicated philosophy. Our own brain, our own heart is our temple; the philosophy is kindness.
The Legacy I Would Like To Leave | Share your knowledge. It is a way to achieve immortality.