Cuan Chelin is the Chief Executive Officer and Founder of Super-Brands Holdings which is a leading investment group and one of South Africa's most recognised and respected brands. He built the brand up from 8 employees to 22o and they have gone from strength to strength since. The Super-Brands Group has gone on to grow successful businesses in sectors ranging from consumer electronics, home appliances, leisurewear, toys as well as sporting goods and services. This dynamic Entrepreneur saw the gap in the market for sports brands that didn't have many good distributors. So he seized the opportunity to merge them into one great distribution business.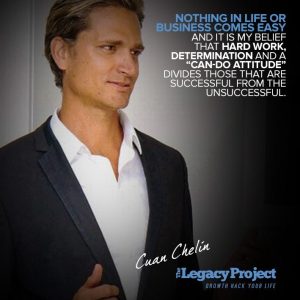 I Am Driven By | I would say that I naturally have a very competitive nature and this undoubtedly plays an integral part in motivating and driving me to succeed in everything I do. The idea however of creating a truly global group of businesses with a bunch of happy customers, employees and investors also makes it very easy to get up in the morning.

The Difference Between Good And Great | I believe the difference lies in the effort, energy and attitude that people, whom are great at what they do, exude. Nothing in life or business comes easy and it is my belief that hard work, determination and a "can-do attitude" divides those that are successful from the unsuccessful.

A Key Talent | Tenacity to never stop learning and improving. Throughout our business and my own personal history, we as a team and I as an individual have always looked at how we can do things better and better and I never stop researching, reading, questioning and learning. There is so much accessible information out there these days and I am a sponge for it.

Principles I Live By | Be authentic – have real conversations, question everything and stand up for what you believe in.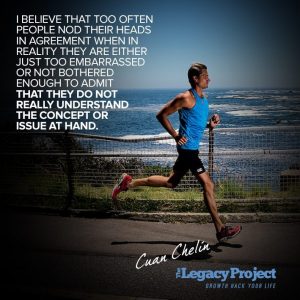 How I Use My Mind | I need to understand what it is I am working on or what someone is telling or explaining to me. I believe that too often people nod their heads in agreement when in reality they are either just too embarrassed or not bothered enough to admit that they do not really understand the concept or issue at hand.

Lessons I Have Learnt | I have learned many, many things and often through trial and error myself. One particular lesson that stands out is the concept of "win-win" as explained by Stephen Covey in his book on the Seven habits of highly effective people. I learned this lesson personally through my various encounters with my mentor and investment partner in our group but also practically through the many various business deals and license agreement that I have negotiated. My belief is that if a deal is too good for you and leaves nothing on the table for the other party then it will come back to haunt you in some or other way. Be hard, get a good deal but be fair and let the other party have their share.

Performing At My Peak | If I stay fit and healthy. I generally eat well and exercise regularly. I tend to carry through to everything that I do the discipline that is required in the office and in building a business. I certainly still know how to have fun though, and make sure to enjoy time with friends and loved ones.

Resources I Use To Stay Inspired | I read as much as I can. This is mainly business books and articles on marketing, sales, human resources, management and leadership. I also listen to various audiobooks and enjoy autobiographies of successful people. I am a member of the Young Presidents Organisation as well as the Entrepreneurs Organisation and attend their various educational events as well as other courses from time to time. Learning is key to growing.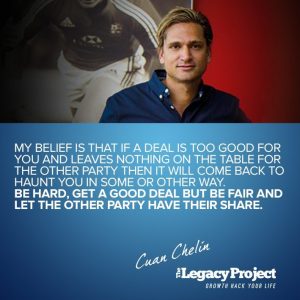 The Best Advice I've Received | Do not give up on your dreams and goals and put in a real effort to achieve them. An idea is pretty much worthless without execution. Google wasn't the first search engine but they really executed on what they wanted to achieve. So put your head and down and do it.

I Am Inspired By | My inspiration comes from a variety of different business people.I have looked up to Jack Welch's management principles, President Obama's leadership and public speaking skills, Richard Branson's attitude and Public Relations Skills and Steve Jobs for his perfectionism and what was an incredible ability to drive innovation. Each of these individuals are truly inspirational to me but as a personal mentor, I would have to say Mike McGrath with whom I have built the Super-Brands Group.Although Mike has never been actively involved in the businesses, the advice he has given and the wealth of experience, integrity and professionalism that he embodies has really taught me a lot and I am very grateful for that.