Claus Meyer has a very long and impressive list of accomplishments. He has published 28 cookbooks in Denmark and hosts a television show named Meyer's Kitchen. Meyer also co-owns a gourmet restaurant called 'Noma', owns a catering, fruit and chocolate supply companies, as well as a cooking school. He is a culinary advisor, lecturer and affiliated professor at the University of Copenhagen and lastly he is the chief proponent of the New Nordic Cuisine Movement. I think it is clear to see that Claus Meyer is somewhat of a food-God. He grew up in what he claimed to have been the darkest periods of Danish history, where tinned meats and frozen greens formed part of everyone's staple diet. That's where the New Nordic Cuisine Movement came into play and was created to re-shape Danish cuisine by promoting natural produce as a basis for restaurant and household food.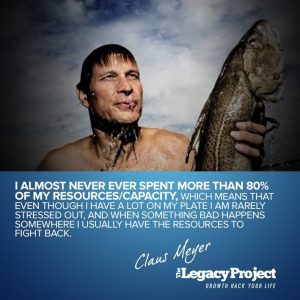 I Am Driven By | The feeling that I am uniquely qualified for solving certain problems in the World. The pure pleasure of creating a beautiful organization on a great mission and the joy of seeing people around me shine and grow.

My Highlights | The conception of noma and the new Nordic cuisine movement is definitely a highlight but I definitely also see it as a highlight that I seduced my wife and that we have got three wonderful girls and have now been married for 20 years. In order to create uplift for people without much hope, when we created the food schools we run in Danish prisons, I have found myself on the side of inmates/ex-criminals with the risk of damaging my company. It was all worth it and even though I have been disappointed, I do not regret a second.

The Difference Between Good And Great | Sometimes hard work, sometimes talent, sometimes humility.

Principles I Live By | We are all equal. Life is a journey where we slowly learn to become the best version of ourselves, or don't.

Lessons I Have Learnt | This could be anything from very simple small lessons, too much larger bigger lessons. It pays off to show people trust, but expect disappointments down the road.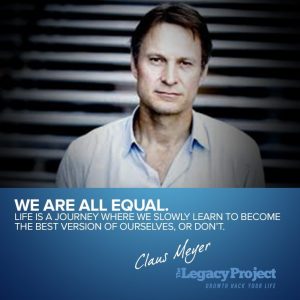 Dealing With Doubt | Can you share a time in which you either doubted yourself the most or had great fear, yet faced up to them and conquered them? I've attached something feel free to extract from THAT story.

Performing At My Peak | I do not always perform at my peak but I believe I have a high good bottom level. I eat well every day. Get at least 6 hours of sleep, often up to an hour more. I prioritize my private relations. I exercise every single day. I almost never ever spent more than 80% of my resources/capacity, which means that even though I have a lot on my plate I am rarely stressed out, and when something bad happens somewhere I usually have the resources to fight back.

The Best Advice I've Received | Guy Sverzut in Gascony with whom I lived one year as an au pair told my always to follow my heart. I believe this is the most important thing anyone has ever med told me.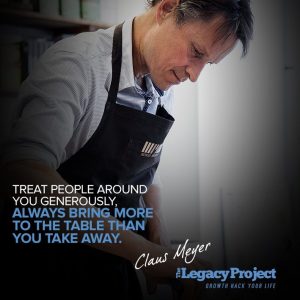 Advice On Building Wealth | Treat people around you generously, always bring more to the table than you take away.

On Inspiring Others | I am dedicated to make people who work with me grow and get opportunities they most probably would not have run into if they had randomly worked with someone else. I do what I can to create a context where my most valuable and talented employees and partners can reach out for their innermost dreams.