Life for Christopher Venter may have seemed like a black hole after losing his sight during his 40s. Before this happened, Chris' carefree spirit took him on many boundary-pushing adventures. However, his loss of sight demanded that he learn to entertain his creative spirit differently. With tenacity, determination and a secure belief in himself, Chris 'stood up' and has since successfully mastered living life via his other 4 senses. Chris shares with us here some of the remarkable truths that he has garnered through his most incredible and beautiful life-journey:
About my Life Mission | My life mission is to prove that in an accessible world a #BlindManCan do anything that a sighted person is able to

My Definition Of Success | In my youth, I believed that success was primarily about making as much money as possible. As I matured, I grew to understand that it is more about finding purpose. A man who can live his dreams and enjoy every day, is much happier and more successful.

I Am Driven By | I am driven by the desire to not become an old person who looks back with regrets for missed opportunities. I would rather try and fail than fail to try and regret never trying.

My Highlights | I have always aspired to live an adventurous life both before I lost my sight and after . I got to sail over 65000 nautical miles all over the globe. I scuba dived in some of the most remote places on the planet. Swam with sharks. Bungee jumped. Rafted on many interesting rivers. Worked in some of the most off beat and strange spots on earth. Rode a little 150cc Vespa scooter close to 100000 kilometres including a trip all the way from Cape Town, through Africa, across Europe to Dublin, Ireland. Got to become a member of Mensa. Found true love. Became comfortable with the choices I made in life. Learned to live by rules and standards that are important. Shook off character traits that I don't value to have as my own.
After losing my sight at forty years old, I have continued to travel by road and rail, ocean and air. I have learned to use screen reader software to the point that I can now help other blind people. I have written over a million words and become the travel and adventure writer I always aspired to be. I just never thought I would become a blind travel and adventure writer. I even got to become the first blind presenter on a TEDx stage in Cape Town, in South Africa and in Africa.

The Magic in me Originates From | My magic must come from fear of failure as well as stubborn determination to live life to the fullest.

The Difference Between Good And Great | People who are great rather than just good are recognizable by the passion they put in to every endeavour they take part in. It's all or nothing. Perhaps the saying of anything worth doing is worth doing right or not doing at all is fitting here. When I do something, it is all or nothing. Either become an expert and go all the way so you become great, or you will only ever become good at best.
A Key Talent | My strongest trait is perseverance. Some may call this being stubborn, but I think that to achieve in life, one must keep trying and eventually they will succeed. Be prepared to fail a few times if need be and eventually you will get it right. Fake it till you make it. Once you make it, you will be it and be able to build on it.
Secondly, I think that people sometimes don't know how great they can be simply because they are too resistant to trying new things. It is easier and safer to just follow proven recipes. People that have reached higher points in life have always done more than just follow recipes. Sometimes even recipes fail because of different circumstances. Be prepared to not only think outside the box, but to think as if there is no box.

Principles, Values and Ideologies I Live By | Be fair to everyone who is deserving of a chance. Respect and appreciate what others do and never ever forget to say thank you and show appreciation.

How I Use My Mind | Turn fear into a more positive feeling. Sometimes a little adrenaline can help you to achieve focus. Take small and manageable challenges on to start with.
I always say, how do you eat an elephant? One bite at a time…

Lessons I Have Learnt | I have learned to appreciate what I have. To never take things for granted and to always take chances. If you don't try then you will never know.

Dealing With Doubt | When I lost my sight, I initially believed that the world was over for me. I had to learn to accept that I still mattered. I had to trust people and figure out who I could rely on. I had to learn the lesson that Helen Keller defines in her famous quote: "The only thing worse than being blind is to have sight but no vision." Many people never get over such a big obstacle. I could not get over the obstacle myself. I just managed to find a way around it.

Resources I Use To Stay Inspired | I like to remain well informed and updated about the latest accessible technology available to blind people. I resisted it very much at first, but eventually became a big Apple product fan. I have find their devices and operating systems the most intuitive to use for me as a blind person. The built-in functionality helps me to perform my daily tasks, which before would have been almost impossible for me with my eyesight.
Since I have become proficient in the use of voice over and screen reader programmes, I have regained a large portion of my independence. I manage to send and receive my own emails, post my own facebook status updates, tweet to my own Twitter feed, read audio books, stream my favourite radio stations, play YouTube clips, etc. basically to do everything that I managed to do before losing my eye sight.
In a fully accessible world a #BlindManCan do anything that a sighted person is able to

My Future Dreams And Ambitions | Through my travel adventures, I hope to create stories to write and share with the world. In this way, I hope to raise awareness about accessibility and creating equal access opportunities for the disabled. Not necessarily special access, just equal access and opportunities.
I would like to inspire and assist other people who have suffered from similar challenges and show them that they are still able to live not only a full and fruitful life, but an adventurous and amazing one if that is what they want.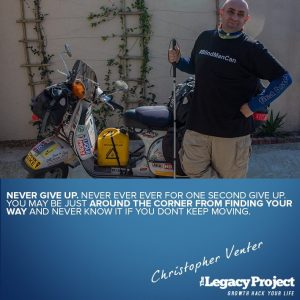 The Best Advice I've Received | Never give up. Never ever ever for one second give up. You may be just around the corner from finding your way and never know it if you dont keep moving.

Advice On Building Wealth | Set achievable goals and realistic targets. Decide what you want to do and then do it totally or not at all.

I Am Inspired By | My amazing wife makes me want to be a better, stronger and happier person. I admire many famous people like Richard Branson, Nelson Mandela and Jacques Cousteau – but to bring it back to my real world, I can honestly say that it is only her, the love of my life, that I want to impress and make proud.