Christopher Jaftha is one of South Africa's favourite triple-threat actors. He began his career off with a bang by earning a role in South Africa's longest running musical African Footprint. Since this he has been involved in many productions, such as Aladdin The Pantomime, High School Musical, Footloose, Mamma Mia, Dream Girls and Night Fever. He was recently part of SABC 3's Top Billing search where he made it through thousands of contestants to be in the Final 5. Jaftha thought his Top Billing adventure was over but he has recently been added to the roster of charismatic presenters for Top Billing. Not only has he contributed greatly to the South African theatre, in his first two years out of school he volunteered in Africa, Europe and America raising money for HIV/AIDS orphanages back in South Africa. He has recently been in Sleeping Beauty and West Side Story productions around the country. 

My Definition of Success | I think success should not be measured by anything material. But by the impact that you have on someone else's life…if you can impact lives around you positively you are a very successful human being. After all, the most valuable investment you can make is in another human being.

I Am Driven By | God.
My Highlights | I am most proud that I never gave up along the way. The journey has been a tough one but that process is all part of the foundation that is being built in your life. If you give up too soon your foundation is shallow and you can only build as high as the foundation allows you. I'm glad to have had parents who have been supportive and wise who have always given the best advise and have been there when I was at my lowest.I'm also proud and humbled to have joined the Top Billing team as their newest recruit. I am proud of Two films that I did for kyknet&kie ,die Staat Se Bul and Alwyntyd great stories and great performances.I am proud to have given two and a half years of my life as a volunteer to raise money for HIV/AIDS orphanages.One of my highlights would've been being cast in African footprint as this is where my professional journey began.

The Difference Between Good and Great |Discipline! If you are disciplined, you can become as good as great. Sometimes if you're naturally great you would not always necessarily work as hard, leaving room for the hard workers to catch up and overtake you. Hard work trumps talent. Also if you want to be great you must do what others Do not want to do, to be great you must be willing to endure pressure, you must be willing to walk through the fire, you must be patient you must be willing to not succeed many times before you do succeed, you must be willing to not be seen once you've endured all these things…but to be truly great you must be willing to serve.

A Key Talent | This is as much of a step-by-step piece of DIY advice as you can manage. One of my strengths is that I work hard, never give up, never see signs of defeat and almost always have a positive attitude regardless of circumstance. I'm that guy that if our team is down 3-0 at the 89th minute I still think it's possible to come back. It's not over until the fat lady sings and she doesn't exist in my world. 90% hard work 10% talent. You can have all the talent in the world but if you don't work hard and have a stinking attitude you won't go far at all. It's your attitude and not your aptitude that determines your altitude. Treat others with respect and live as honorably as possible.Regardless of circumstance it's your choices that will define your future.That being said my true strength comes from God, the only reason why I am where I am is because of Him. some won't understand that some will but it doesn't matter.

The Characteristics of Success | I'm a hard worker, I'm positive, I am disciplined, I take responsibility for my actions, I judge myself- in doing so there's less room toJudge others, I treat everyone as though they are someone important and I believe that what you sow you reap.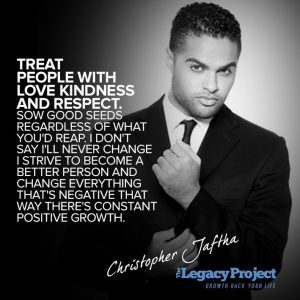 Principles I Live By | Treat people with love kindness and respect. Sow good seed regardless of what you'd reap. I don't say I'll never change, I strive to become a better person and change everything that's negative that way there's constant positive growth.

Critical Skills I Develop | The entertainment industry In SA is still small and growing, so I believe that you have to spread your wings as wide and far as possible, so that you're versatile and can fit into any role at anytime, be it a singer,actor, presenter, Mc, voice over Artist, dancer, comedian. Push yourself and never stop growing and learning it will define you as an artist as well as your character.

How I Use My Mind | I never think anything is impossible even if it seems impossible. Anything can be achieved with discipline and willing heart and mind.

Lessons I Have Learnt | This could be anything from very simple small lessons, too much larger bigger lessons.That your mind is powerful beyond measure of only you believe.I once had allergies that sprung out of no-where and to cut a long story short, my dad said that if I want to be on meds the rest of my life then I can accept what is happening but I have the ability through God to overcome it.It was hard to hear at first but I had to have faith and move beyond that fear in order to be victorious, which I'm happy to say I was.

Dealing With Doubt |It's only the grace of God that has enabled me to conquer fears and self doubt. I wish I could take credit for it but I am just a vessel that was willing to play a part. I do the easy part by believing and acting and God does the impossible part by doing what no man or woman scientist, doctor or phycologist could do.

Performing At Your Peak | I eat very healthily, I drink a lot of water, exercise and keep my mind healthy.

Resources I Use To Stay Inspired | I listen to a lot of messages by Dr Tunde Bakare, Zak Poonen and Dr Johnathan David. I also read David Wilkinson's materials. My mom and dad are my sources of accountability, they keep me grounded and tell me the truth regardless of whether it hurts or not.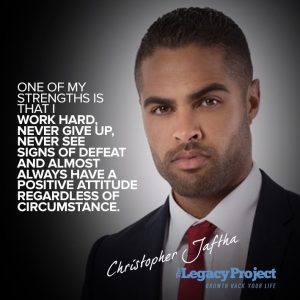 My Future Dreams and Aspirations | I love everything I do but I more especially love film. I want to do more feature films and I want to do it with the best in the game.

The Meaning of Life | We are not here for ourselves but for others. It's good to be the best version of ourselves though so we can give our best to those who need it.

The Best Advice I Have Received | I am nothing without God.

Advice on Building Wealth | Work hard, don't be afraid, don't procrastinate, act and do and treat people well on your way there.

On Inspiring Others | It's rare to find such people but when you do it becomes a birds of a feather sort of thing.

The Legacy I Would Like To Leave | I want to be the best I can be and hopefully see lives affected by me , becoming greater than I am or was.