* This is a compilation of quotes sourced from the internet
Robert Allen "Bob" Iger is an American businessman and the chairman and chief executive officer of The Walt Disney Company. He was named president of Disney in 2000, and later succeeded Michael Eisner as chief executive in 2005, after a successful effort by Roy E. Disney to shake-up the management of the company. Iger oversaw the acquisition of Pixar Animation Studios in 2006, following a period of strained relations with the animation studio. He also led the company to acquire Marvel Entertainment in 2009 and Lucas film in 2012, further broadening Disney's intellectual property franchises.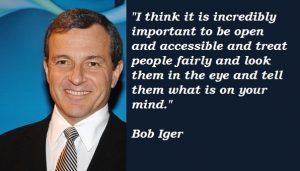 On Creativity And Innovation | The heart and soul of the company is creativity and innovation.
On The Riskiest Thing To Do | The riskiest thing we can do is just maintain the status quo.
On The Importance Of Optimism | What I've really learned over time is that optimism is a very, very important part of leadership.
On Working Out | I ride a bike and use aerobic equipment twice a week, and work out with a trainer, lifting weights.
On New Experiences | We're delighted to be working with Apple to offer fans a new and innovative way to experience our wildly popular shows.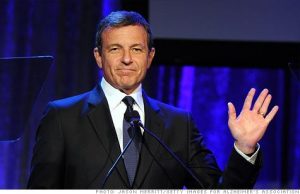 Lesson I Have Learnt | I began as a weatherman and I learned very quickly I wasn't very good at it.
On Working At Disney | I had worked at Disney since they bought the company that I had worked for, ABC in the mid-90s.
On My Fondness For Jazz Singers | I have a fondness for jazz, particularly for jazz singers, Billie Holiday and Ella Fitzgerald all the way through the Sinatra era.
On My Commitment To Increase Long-Term Value | I'm committed to increasing long-term value for shareholders and am confident we will continue to do so through the successful execution of our core strategic priorities: the creation of high quality, branded content and experiences, the use of technology, and creating growth in numerous and exciting international markets.