CEO and founder of LumiFi, is an accomplished, award-winning lighting designer with more than 20 years of global experience. She has worked on countless lighting design projects alongside renowned architects including Frank Gehry and Steven Holl. Having worked as a German trained architect and graphic design and digital media teacher, Beatrice is driven by how technology and light transforms and influences a space and how people interact with it. Her primary focus is hospitality, as well as SuperYacht projects, but has also worked on numerous residential, commercial and institutional projects. In 2010, Beatrice received the prestigious Lumen Award for her contribution to the Lincoln Center – Alice Tully Hall & Julliard School.
My Definition of Success | Success, for me, can mean two different things. Professionally, it is receiving recognition for making a difference, whether that is in a community or an industry. Personally, it is finding an inner peace in what you do. I am very fortunate because design does both of those for me.
I Am Driven By | I am inspired and driven forward by ideas and visions; by the belief in something so strongly that it is the first thing I think about when I wake up, and the last thing I think about before I go to sleep. I get excited by the whole design process, but there is one moment when you're creating something, where you stop thinking and just start doing. That is what drives me. It's the moment when good design just happens.
My Highlights | My proudest moments professionally usually involve sharing one of my accomplishments with others or receiving recognition for something that I worked hard for. On the other hand, truly living in the moment aids in my design process. Sailing is one of my hobbies where I find that my mind is at ease which can lead to some of my proudest design ideas or moments.
The Difference Between Good and Great | The biggest difference between people who are good and people who are great, is passion and having a bit of an idealistic nature. People who are great at what they do are always pushing themselves and their endeavours to 150%— going above and beyond what is necessary and expected. They also have this idealistic nature that is similar to perfectionism: they know that good is not great and that there is always something more to do and achieve. Another difference is that people who are great at what they do are almost always working on something they are passionate about. Greatness has a direct correlation with the passion you feel towards a project, cause or endeavor.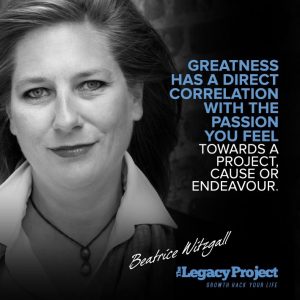 A Key Talent | I am a very passionate person, and I never give up or become complacent, which I think is a strength of mine. I love being creative and using my creativity to solve a design problem.
I think the best way to stay passionate is to find a way to think outside the box. The more unique and truly personalized a project is, the more passionate about it you become. When it comes to never giving up, it is all about determination and keeping your eye on the goal even when things get hard— because hardships will always be present. It is also very important to listen, stay open minded, and realize that you can't be an expert in everything. Lastly, don't be afraid— being innovative and creative comes with plenty of reasons to be scared, but as long as you have a passion for what you are doing, it will be evident and everyone will want to follow.
The Characteristics of Success | Entrepreneurship and running a company is very difficult and it comes with many doubts and challenges. Finding something that excites you and that you can be passionate about is the key characteristic to success. It is also really important to have some semblance of a work/life balance— some way to detach or distance yourself from your projects. I find this balance through traveling or sailing. They help me clear my mind and reflect on what I am doing, why I am doing it, and ways in which I can improve.
Principles I Live By | I am a firm believer in the saying, "fail early, fail fast." The faster I discover something that needs to be corrected, the faster I can deal with it and move on. The same goes for feedback. The only way I can get better and improve, is if I'm constantly receiving feedback from various sources. Instead of being silent or pretending that a problem does not exist, I find it important to say how you truly feel or mean so that you as well as others can learn from it.
Critical Skills I Develop |
Listen– Listening always opens up doors and encourages feedback.
Passion– You will not have success in something that you are not passionate about.
Resilience– If you believe in something, you need to keep trying to make it a reality, no matter the obstacles in your way.
How I Use My Mind | Creating a positive energy and positive environment is essential for achievement. Positive energy and passion transcends boundaries— it will attract people with a similar passion and vision which will further strengthen your goal.
Lessons I Have Learnt | I've learned that people will take advantage of you when they can and that it is important to protect yourself from that. I've learned about the importance of passion and how loving what you do can completely change your outlook on life.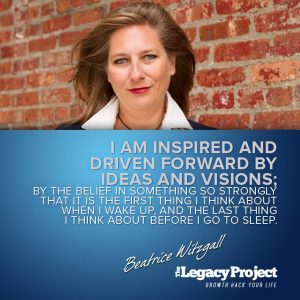 Dealing with Doubt | Dealing with self-doubt, fear, or negativity is something every entrepreneur faces. Overcoming that is all about surrounding yourself with a supportive environment of friends, family, co-workers, and mentors who are there for you and can help you work through it.
Performing At My Peak | It is impossible to ensure that you are always performing at your peak. I can avoid putting myself in situations where I know I wouldn't perform well, but it really is impossible to perform at your peak 24/7.
Resources I Use To Stay Inspired | I try to stay open minded and find inspiration wherever I go. I love being around the ocean, sailing and flying. Those three things help me detach, let me reflect on everything I have going on and are constantly a source of inspiration in my life and in my work.
My Future Dreams and Ambitions | My main goal right now is to make LumiFi a success. I want to improve people's lives by influencing them and exposing them to meaningful light experiences. I want to be recognized for making a tiny difference in this world, and add to the ways in which people live their lives, and interact with technology.
On a more personal level, I want to travel more. I want to create a greater bond with the places I already call home— the cities that I share with loved ones and friends— and I want to create a home in new places and experience the beauty of the world.
The Meaning of Life | The meaning of life is making a difference to others.
The Legacy I Would Like To Leave | That I made a difference to someone, somewhere, no matter how small.