Arogyaswami J. Paulraj was born in Pollachi near Coimbatore, India. He joined the Indian Navy at age 15 through the National Defence Academy, Kharakvalsa and served the Navy for 30 years. Paulraj received his bachelor's degree in electrical engineering from the Naval College of Engineering, Lonavala, India, and his doctorate in electrical engineering from the Indian Institute of Technology, New Delhi. He is currently a Professor Emeritus at the Dept. of Elect. Engineering, Stanford University.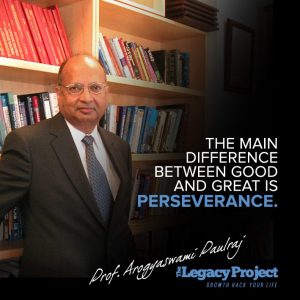 I Am Driven By | To create something of value – Whether it be building a military sonar system, starting a company or writing a text book. Personal gain never seemed to be a significant driver. Maybe some kind of inner calling.

The Difference Between Good And Great | Perseverance
A Key Talent | People thought that I could think clearly (or logically) in science or engineering. That gift certainly helped me, but more important was ability to work really hard. Before the age of 50 whilst in India (I am 70 now and slowed down a lot), I had the reputation of being the hardest working person around. I enjoyed working because I loved what I did.
Principles I Live By | To do unto others as you would have them do unto you. (but not easy to follow)

Critical Skills I Develop | I am very curious about everything – from history to math to biology and technology. That helps me piece things and sometimes see further.

Dealing With Doubt | I could think clearly, so I always felt reasonably confident that my projects will work out. Failures happened, but did not bother me much. As a young man I had a very bad stammer, but slowly overcame that handicap (mostly). That too gave me added self-confidence about the future.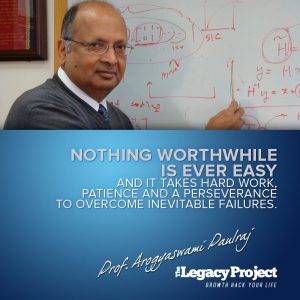 My Future Dreams And Ambitions | I would like to write and speak more broadly about society and development. So far it has been mostly math heavy research papers.

The Best Advice I've Received | Nothing worthwhile is ever easy and it takes hard work, patience and a perseverance to overcome inevitable failures. Honesty always pays off in the end.

I Am Inspired By | Mohandas Gandhi and Mother Teresa of Calcutta. They are of course lofty lives indeed.