Amy Jo, author of New York Times Bestseller Renegades Write the Rules, founded Digital Royalty five years ago to help companies, celebrities, professional sports leagues, teams and athletes build, measure and monetize their digital universe. In addition, Digital Royalty provides customized social media education programs through Digital Royalty University, which offers a comprehensive curriculum blending strategic and tactical training.
Amy Jo herself has 1.2 million Twitter followers @AmyJoMartin and she travels the world to speak about the latest trends in social media, how to monetize various social platforms, and how to successfully build a personal brand by utilizing social communication tools. 
 

I Am Driven By | Change and my addiction to curiosity. When I was a child I ran alway. Daily. I'd explore the outskirts of the small towns where I lived in Wyoming, Kansas or Arizona. I always knew, even as a young child, that there was something undiscovered out there and that I wanted to be the one to discover and share. I'd always come home each evening because I would get hungry.
 
My Highlights | http://amyjomartin.com/ethiopian-entrepreneur-on-the-loose/

The Difference Between Good And Great | Your hustle factor is often your differentiating factor. Work Hard. Don't forget the importance of your personal brand. Your personality, confidence, and the way you conduct yourself define your brand. Keep striving to improve.

The Characteristics Of Success | I choose to work with individuals, partners, and clients that I believe have an equal and ongoing value exchange. The people you choose to do business with and the people you decide not to do business with will be important decisions you make. There's a big difference between true business partnerships and vendors. Alignment is key for longevity. Transactions are short lived.

How I Use My Mind | I'm not afraid to take risks and make mistakes. It takes more time and energy to think differently, test new ideas, try to sell them to everyone involved and stand your ground against the non-believers. Swimming in the sea of sameness appears to be safer and easier than dipping your toes in unchartered choppy waters. Anytime we innovate, adversity follows. With adversity comes tension and people tend to avoid conflict. In reality, tension equals growth. You're much more likely to drown in the sea of sameness than get eaten by a shark while navigating through new waters.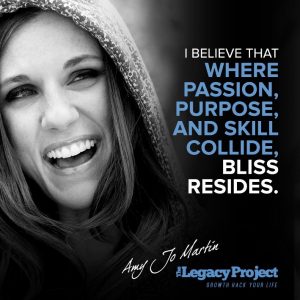 Lessons I Have Learnt | Just because you can do it all, doesn't mean you should. Realize what you're uniquely qualified to do and delegate or outsource the rest as soon as you can. Your team is everything. Spend a great deal of time making sure the right people are on the bus in the right seats. Beware of shiny object syndrome. More companies fail from lack of focus vs. lack of business. Also, A diverse support system is critical. You're going to need more than family and lifelong friends. It's lonely at the top.

Resources I Use To Stay Inspired | People: Tony Hsieh has taught me so many things. He is one of the most humble and successful individuals I have ever known and it seems when we practice humility, our growth is accelerated. Tony's appetite for risk is unmatched and he is so experienced in testing new things and 'taking the leap' that his net always seems to appear after he jumps. I'm beyond grateful to call him my friend, mentor and business partner.

Books: I love to read and typically I have a few going at the same time. Recently – Simon Sinek's Leaders Eat Last, Amy Purdy's On My Own Two Feet, Richard Branson's The Virgin Way

Environments: My boat, Lady Renegade, in San Diego and my family cabin in the Black Hills of South Dakota, built by my relatives in 1891.

The Meaning Of Life | I believe that where passion, purpose, and skill collide, bliss resides. I'm fortunate to have found that intersection. My motto in life is – Life isn't a dress rehearsal. Make every day count.

The Best Advice I've Received | Be where your feet are.

Advice On Building Wealth | I recently invested in one of my best friends from grade school. She wanted to go out and get a large amount of investment and it was a struggle so we decided to start small and just get started. Even if you have to start small. If you don't believe in yourself then you can't expect anyone else to believe in you. Once you get started you begin learning what will and will not work very quickly. The only way to know this is by getting started.
On Inspiring Others | Attracting the combination of incredible talent that comprises the team is my biggest success. When employees feel appreciated, happy and safe they are more loyal, productive and care more about the company. They perform better. All of this is directly related to profitability. Experimenting is key. It's important to experiment and fail early so by the time everyone else catches up, you're already polishing up your knowledge. Progress is related to innovation. When we strive to innovate we feel a sense of progress and perceived progress is one of the three ingredients of happiness. Happy team members lead to better profitability. At my company, we encourage the team to ask forgiveness instead of permission — but bring your results with you when you're asking for forgiveness! Empower team members to make their own decisions. Give them the autonomy they need to think independently and also the support and encouragement they need to believe in what they're creating. At Digital Royalty, we also celebrate Blessons which are lessons and blessings combined. If we share our learnings with each other we're able to leapfrog other's "mistakes" and accelerate our process of learning. We embrace learnings and even have a wall at our office where we write our blessons to showcase and celebrate them.

I Am Inspired By | Personally, my father and mother. One of my earliest childhood memories was when my father, who is an expert skier, taught me how to ski and took me to the top of a black diamond run. We skipped the bunny slope that day and instead my dad helped me down this difficult path. Years later, my friend Simon Sinek helped me identify my "why" — why I do what I do. I realized that my "why" is to help people do difficult things and also to allow people to help me do difficult things. I'm notorious for skipping the bunny slopes in life and sometimes it complicates things, but the only way to be successful is to not go alone.