Ameenah Gurib-Fakim is a  Professor and Managing Director At Cephyr, her main line of research has been on the pharmacological properties of the endemic medicinal plants of Mauritius. She has published four books on the Medicinal Plants of Mauritius and Rodrigues, 2 CD-ROMs on the Medicinal Plants of the South West Indian Ocean, 2 books on Mauritius through its medicinal plants (English and French version), and an Illustrated Guide to the Flora of Mauritius and the Indian Ocean Islands. She has also been published in several international journals on the medicinal plants of Mauritius. She is co-author of another major book entitled Medicinal Plants of Mauritius and the Indian Ocean Islands (MedPharm Scientific, 2004).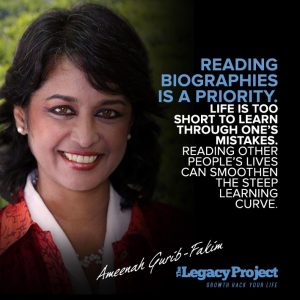 My Definition Of Success | Success is not an end in itself! It is a journey that is best judged by the number of times that the traveler has been able to stand up after he/she has fallen down!
I Am Driven By | Passion and perfection drive me. I have always said that 'if you are passionate about what you do, you will not have to work a single day of your life'. Nonetheless, a sound disciplined approach is also needed to get to that desired level of perfection.
My Highlights | The highlight of my personal life is to have been able to maintain both a career and a family with 2 children. From the career point of view, I have been able to live the dream of a scientific entrepreneur – having started my own company.
I have been able to achieve my ambitions for translating my academic research work spanning 20 odd years into a business that will serve the African people, humanity as well and has helped restore a page of our history.
The Difference Between Good And Great | People who are great make the most complicated task appear easy, interesting.. and even worth trying!
A Key Talent | My biggest strengths remain my sense of curiosity, stubbornness and self-confidence. I recall reading a quote when I was younger: 'Success goes to those who dare and act and it rarely goes to the timid'.  This quote has shaped my desire to be more daring and my training as a scientist has reinforced my sense of curiosity.
Being stubborn helps when one is training as a scientist. I am also driven by discipline and a need to go towards perfection. Pay attention to the small details as this makes all the difference.
Principles I Live By | I am a firm believer in doing onto others what you would like other to do onto you. Also, there must be a good dose of sincerity in one's actions; of walking the talk as they are key in promoting trust. All in all – Lead by example and also never leave for tomorrow what can be done today!
Resources I Use To Stay Inspired | I enjoy reading history books as I firmly believe that until one does not know where one came from, one will not know where one is heading to. Also, one has to draw from experiences of the past so as to avoid repeating the same mistakes again.
Reading biographies is a priority. Life is too short to learn through one's mistakes. Reading other people's lives (especially those who have had iconic lives) can smoothen the steep learning curve.
The Best Advice I've Received | In whatever you do, be yourself and give the best of yourself… never compromise on quality, ethics, fairness, integrity and especially no cutting corners! Cultivate the culture of excellence and precision.
 I Am Inspired By | My role models are those Men and Women who have made it through the dint of hard work and sheer perseverance and who have never given up in the face of adversity, bias or handicap. I have in mind great scientists like Marie Curie, Albert Einstein or our contemporary Stephen Hawkins.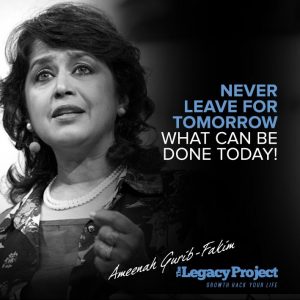 The Legacy I Would Like To Leave | I can safely say that I have, through my scientific work, left a legacy of sort. I have brought back a page of our history by documenting the traditional knowledge of my country and region. This database will serve generations of scientists in the years to come in as much as this database serves as 'prior art' in patenting and other related activities.
I have also left a legacy for having started multidisciplinary research activity, which I consider to be the only way forward in terms of new discovery – innovation at the interface of science. I hope to leave a legacy in terms of an enterprise as I have translated an academic piece of research into a business. What I want to see happen now, is for the business to grow and to become a pillar of the economy in the area of biotechnology and provide employment for the bright young minds of tomorrow.