Alana James is the driving force behind The Sunflower Fund – a South African non-profit organisation dedicated to creating awareness, educating and recruiting people to sign-up with the South African Bone Marrow Registry as stem cell donors to help hundreds of South Africans with blood diseases such as leukaemia who have reached the point where their only chance of survival is a stem cell transplant. She is a visionary, a leader, an organiser extraordinaire, fundraiser, an opportunist, a creator but above all she is passionate about evangelising 'leadership' in our country and seeing others fulfilling their dreams and living out their full potential. I hope you enjoy her words of wisdom and inspiration:
About my Life Mission: I want to make an impact on people's lives – but more importantly, I want to help others increase their impact on society. Nurturing and growing leaders, strategically supporting organisations to increase their impact for measureable change. I want to help the value of brands being measured by the culture of their staff and the impact of their work, not by the smarts of their marketing.
My Definition Of Success: When I can look back on my day, see an impact, and know that my contribution has made a difference to someone.
I Am Driven By: The need that I see; which may be an individual wanting to grow, seeking an opportunity, or a community without a voice, needing support or just wanting to engage.
My Highlights: Our 2016 Sunflower Fund turn-around campaign; not only taking a new product to market, but highlighting the cause and bringing it to the forefront of our media and communities. Seeing South Africans rally behind a cause and creating hope for those in need. Leading this amazing team to achieve these goals has been my proudest moment in my career. One of my coaching clients has just implemented their new strategy that has taken their business to new successes and it was really an honour to be a part of their excitement and growth.
The Magic in me Originates From: The belief that my mother nurtured in me: that each person has the power to change the world. Like superheroes, we all have different "powers" and different skills. The magic is about finding the power within you that will change the world. Do that, help others find theirs and see how they too can change the world.
The Difference Between Good And Great: The will to continue after a failure and the courage to set big, often scary goals.
A Key Talent: I can spot an opportunity, but I can also make one if I don't find it.
Principles, Values and Ideologies I Live By: Be kind, work hard and do better than yesterday.
How I Use My Mind: I love my creativity. I sometimes think so far out the box I can't even see the box! I let my imagination fly, and then start thinking through some logical processes to make the dream a reality. Keeping my creativity, strategy and logic all well oiled!
Lessons I Have Learnt: There is always a more efficient way to do something and I don't always have the answers; the value of networking and teamwork is priceless. I love surrounding myself with people who know a lot more than me – don't be afraid to not be the smartest person in the room.
Dealing With Doubt: I use some logic and strategy here – if I have doubt, then what is plan B? I keep making my way through the alphabet and know that there are many more ways to make this work – and my doubt is outnumbered! I also find great value in sharing my doubts; people will either agree with you, or they point out a few more alternate options/solutions to dispel the doubt.
Resources I Use To Stay Inspired: I'm addicted to TEDTalks, I read books and motivational quotes and I love engaging with people around their challenges and successes. I receive coaching at least once a year.
My Future Dreams And Ambitions: I would love to do more turn-around strategies for NGOs or corporates who are doing great impact work. I'd love to do more executive coaching, working with leaders to fulfill their dreams and create a greater impact for change. I want good leadership to be contagious, and I'll do my bit to spread it!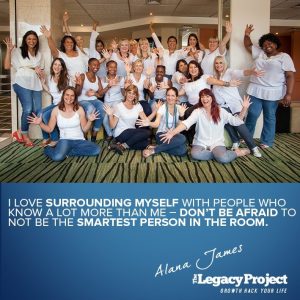 The Best Advice I've Received: Work hard and be so good they can't ignore you.
Advice On Building Wealth: Focus on what you love. When your work is your passion, wealth will find you. Before you 'mission off' building wealth, first be sure you know what wealth means to you.
I Am Inspired By: The picture I have in my mind of what this world could be. With great leadership nothing is impossible, but mostly I'm inspired by the potential of people.