Professor Adam Habib is the Vice-Chancellor and Principal of the University of the Witwatersrand, and has served in this position as from the 1st of June 2013.
He is an academic, an activist, an administrator, and a renowned political media commentator and columnist.
A Professor of Political Science, Habib has more than 30 years of academic, research, institutional and administration expertise. His experience spans five universities and multiple local and international institutions, boards and task teams. His professional involvement in institutions has always been defined by three distinct engagements: the contest of ideas; their translation into actionable initiatives; and the building of institutions.
My Definition Of Success | I wake up every day thinking about how I can make a difference through my sphere of influence, how I can work with all those that I come into contact with to collectively change the world for the better. Fortunately, in a job such as mine at Wits University, I come into contact with influencers every day – from student leaders and cleaning staff who are activists to industry leaders and influential politicians.
My Highlights | Serving as the Vice-Chancellor of Wits University is probably one of the most challenging jobs in the country. To a large extent you cannot predict how the day will unfold alongside your scheduled events. However, it is a job that keeps me on my toes and allows me to challenge and be challenged by a diverse range of stakeholders. I learn something new everyday and interact with amazing people. It is definitely a high point in my career. However, I could not do it without the support of my life partner and wife, Fatima, and my two sons Zidaan and Irfaan. They give me the support that I require to do what I do each day and they are fabulous, successful people in their own right.
A Key Talent | I have the ability to speak my mind. I am not afraid to put forward my arguments, to stand up for what I believe in and to share my thoughts with others. There is a danger in this too – my views sometimes make me unpopular amongst influential people and groups, but overall, I believe that we have to speak out, especially to sustain our young democracy – it is one way of keeping people in powerful positions in check. Our Constitution guarantees our rights to freedom of speech and expression and we should exercise them.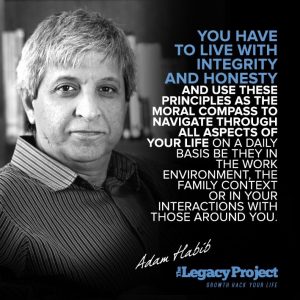 The Characteristics Of Success | As a leader, one cannot afford to shy away from making difficult decisions or developments. It is best to assess the situation, take advice, make informed decisions and then have the courage to live by these decisions, and the consequences of these decisions if one is to be a great leader.
Principles I Live By | You have to live with integrity and honesty and use these principles as the moral compass to navigate through all aspects of your life on a daily basis be they in the work environment, the family context or in your interactions with those around you. I am a stickler for transparency and accountability at all levels and I believe that if our leaders in the public and private sectors and civil society were more open overall, it would enhance our democracy immensely.
Critical Skills I Develop | One of the key skills that I have learnt over the years is on how to solve problems between people at all levels, in all sectors. Conflict resolution is a critical skill required at the micro and macro level by all managers, leaders and influencers in society, both in and beyond the workplace.
Lessons I Have Learnt | Listen to what everyone says. Take advice, Read, Understand the context. Then make an informed decision and stick to it.
The Best Advice I've Received | I would say a quote from former president Nelson Mandela who said: "Courage is not the absence of fear, but the triumph over it. The brave man is not he who does not feel afraid, but he who conquers that fear."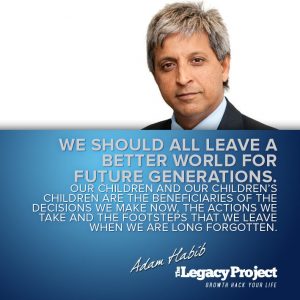 On Inspiring Others | You have to find people who are best suited to the job – not only in terms of the skills and experience that they have and the networks in which they participate, but also via their ability to contribute positively towards the institution to enable it to meet its goals. You need strong leadership to keep people motivated, focused and creative so that they go beyond the call of duty to do something that they believe in that is also mutually beneficial to the institution.
The Legacy I Would Like To Leave | We should all leave a better world for future generations. Our children and our children's children are the beneficiaries of the decisions we make now, the actions we take and the footseps that we leave when we are long forgotten.
Useful Links |