Adam Duxbury graduated with an Honours in Economics & Law from the University of Cape Town in 2013.  He then started working at Delta Partners, the leading advisory and investment firm specialising in the TMD industry. Adam grew up in Johannesburg and completed high school in KZN with a perpetual passion for the Cape Town summer. Inspired by world-renowned swimwear brands and e-commerce start-ups like Vertty, Adam approached Josh Meltz  with an idea to found Granadilla; a dream that has now become a reality and is going from strength to strength since its establishment in 2015.
My Definition of Success | For me, success is very closely entwined with happiness; my own happiness and the happiness of those around me. As a kid, it was mostly about my own happiness. Over the years, however, it has become far more important to create happiness for others; and I have become aware of the critical impact that we can have on other's lives.

I Am Driven By | I'm driven by my peers, my family, my friends and my competitors. Whether they're supporting me or trying to beat me; without these types of people I would have no reason to achieve more.

My Highlights |In my life, I'm most proud of the friends I've made. Each one is so different and unique; I'm extremely proud of who I've found and befriended in this world. In my career I am most proud to be successfully balancing a challenging career as a Management Consultant as well as a start-up Entrepreneur.

Difference Between Good and Great | People who are great want to do what they do. It's so much easier to be great when you're enjoying yourself!
A Key Talent | 
A critical talent is to be like a chameleon: adaptable, and flexible.
Don't get offended when someone criticises or critiques what you do; this is an opportunity to improve.
Don't be scared to over-extend yourself; you can probably handle it.
Don't hesitate to take risks; you may get lucky.
Don't get shaken when things don't go according to plan; your plan probably wasn't perfect anyway.
Don't have a plan; make it up as you go.
 
Characteristics of Success | We are both passionate and we both believe we can achieve what we set out to.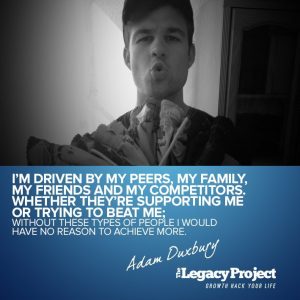 Principles I Live By | Trust and loyalty.

Critical Skills I Use | Organisation and structure. When you have a lot of things going on, its easy for something to slip through the cracks. Make sure you are taking notes and keeping neat lists of 'to do's' that you can refer to.

How I Use My Mind | I literally talk to myself when I'm showering and getting dressed in the morning. Talking through all the things I want to do, how I can do them, what the challenges are going to be. It's kind of like a pep talk I give to myself.

Lessons I Have Learnt | Ask for what you want. And don't get disheartened if the answer is "no".

Dealing With Doubt | That's what a business partner is for… Whenever I doubt myself, Josh is there to give me the support and coaching I need. And hopefully, vice versa.

Performing at My Peak | Exercise, sleep and healthy eating. In order for me to perform at my peak I have to be physically in good condition. Otherwise, coffee.
Resources I Use To Stay Inspired | The primary resource I use is people around me. My friends, influential artists, designers, and strategists.

The Best Advice I've Received | The same advice I gave above… ask for what you want.

The Legacy I Would Like To Leave | I want people to smile when they remember me!