Joshua Meltz is a 24 year old graduate with Honours in Economics & Sociology from the University of Edinburgh. Meltz and Adam Duxbury (to be featured) created Granadilla together in 2015.  Josh grew up in Johannesburg, in a retail environment. His father (Jackie Meltz) founded MELTZ factory stores, a legacy which has shaped his passion for the trade. During his time in Edinburgh, Josh started and successfully sold his first business, Granadilla being his second venture. The name "Granadilla" was inspired by the iconic ice-cream sellers on Clifton 4th Beach – "a granadilla lolly to make you jolly!".  Reminiscing on how tough it is when starting a business, the Granadilla Boys have committed to donating 5% of profits to charitable causes helping to promote entrepreneurship in South Africa, so that their South African brothers and sisters can fulfill their dreams too.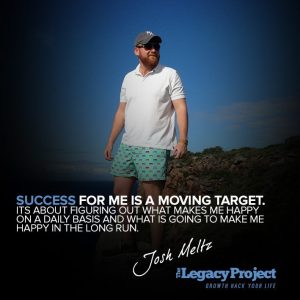 My Definition of Success | Success for me is a moving target. Its about figuring out what makes me happy on a daily basis and what is going to make me happy in the long run… It certainly involves my business and financial growth, but is not limited to it. It involves my relationships, and involves the way in which I conduct myself in my environment. Sorry if that seems vague, but pinpointing success in my eyes is something I try and work out everyday.
I Am Driven By | I am driven by a number of factors. The pursuit of happiness. The pursuit of freedom. The fear of wasting a single second of life.
My Highlights | My honours degree in Economics from Edinburgh is a big highlight, it was probably the first achievement in my life I couldn't just breeze through. But I am most proud of my relationships in life.
Difference Between Good and Great | I believe anyone has the potential to be good at what they do, it takes perseverance and practice, alongside a bit of self belief. To me, greatness warrants introspection. Greatness requires an acute understanding of one own relevance in the bigger picture. Greatness requires humility. Greatness is about promoting others to be good at what they do. But what do I know!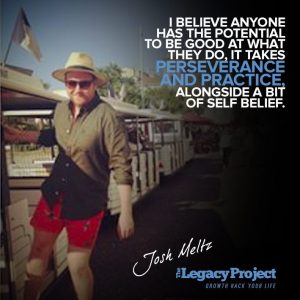 A Key Talent | I think the factor that has really contributed to my success thus far has been my confidence. For some reason (unbeknown to me) I have never doubted for one second that I would succeed at what I start and so I just start. So when I have an idea, I do something about it. In my brief experience in business I have seen so many of my peers stumble. Often they do not even see out their (sometimes brilliant) ideas come to fruition due to a lack of confidence in their own ability. It sounds like a cliche, but the reality is, it is for a reason. Another factor that I cannot emphasise enough, is don't worry if your plan doesn't work out the way you imagined it to. Be dynamic, be flexible, and DON'T be egotistical about it. Some of my best business activations started off with my idea being the exact opposite of what ends up working. Role with the tide and adapt your the environment in which you exist.
Characteristics for Success | So I am 100% passionate about entrepreneurialism, it's what keeps me up at night and gets me up in the morning. With that in mind my actions are dictated by the happiness and thrill being an entrepreneur gives me. The nature of the job means you work exactly as many hours in the days as you want to. I try to put some structures in place (im still working on it) to make sure that I'm working smart and not just mindlessly completing tasks. Prioritising is critical. Another critical practice is the ability to work towards milestones and breaks. I set internal deadlines and then reward myself with half / full days off when I have achieved those milestones.
Principles I Live By | I like to actively try and "be the change that I want to see". Easier said than done.
Critical Skills I Use | 1. Prioritising my time
                                         2. Handing over responsibility
                                         3. Managing expectations
How I Use My Mind | As mentioned above, the key for me is confidence in my own ability to pull it off no matter what. It allows me to not worry about the fear of failure and focus achieving my goals.
Lessons I Have Learnt | Things are almost always exactly as they seem. Don't overthink things.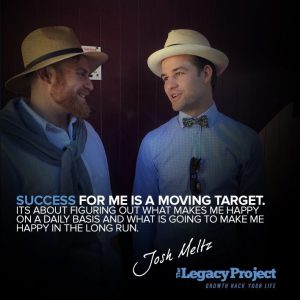 Performing At My Peak |I have learnt the hard way but the key to maintaining a good work ethic as an entrepreneur is giving yourself time off. One day a week minimum. This will help you clear your head as well as give you a target to work towards.
My Future Dreams And Ambitions | I am passionate about RSA and would like to make a meaningful contribution to empowering South Africa. I would like to put South Africa on the global map create products that stand up to and exceed their international counterparts.
On Inspiring Others | By aligning my goals with theirs.
I Am Inspired By | My dad is my biggest inspiration. He has taught me the value in living without an ego.