Rich Mnisi is a LISOF graduate and Africa Fashion International Young Designer of the Year 2014. He founded RICH MNISI, is a South African based contemporary fashion brand. The brand has a global view catering for an aspirational market, the brand is young at heart and explores the treasures engraved within Africa and the world of modern culture and heritage to tell the unique stories of then, now and soon. All this packaged in extremist yet minimalist structures which take design and craftsmanship as the first and foremost motivation.
With, designer, Rich Mnisi's keen interest in the world of pop culture, he has carved the brand to maintain a contemporary outlook and stand firm in an aesthetic that brings worlds of artistic imagination together. RICH MNISI breeds new layers and visions inspired by sources outside of the realm of fashion, including film, music, art and nature, being immersed but measured, picking up only the fitting notes to gather as foundation.
I Am Driven By | The idea of possibility. The passion I have for my craft, general caring about life and what you can do with it.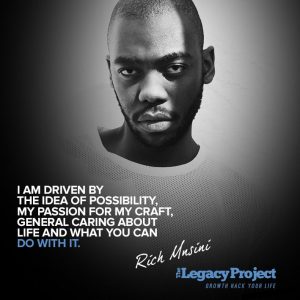 My Highlights | It's difficult to sideline moments because there have been so many that have opened my eyes and taken me out of my comfort zone into an even better space etc. The brand itself has experienced some tremendous milestones with every feature, collaboration and showcase. We've travelled to Paris, appeared on international fashion platforms such as iD, Dazed Digital and winning AFI Young Designer of the Year 2014. We've collaborated with SKIP for their fashion exchange and dressed some amazing people. It really has been moment after moment of realizing how much further we can stretch ourselves.
The Difference Between Good And Great | Good is studying it so well that you are able to squeeze yourself into it effortlessly, great is having it ready for you to use. It is not conditioned or rehearsed, it just lives and you nurture it every day by just doing or exposing it.
 The Characteristics Of Success | I am regularly undecided and that mixed in with a level of stubbornness, has helped me in pushing myself even further. An idea can be good in the beginning, we confirm it and plan it out but I always know that there is an even better way of doing it. My mind races and I end up adjusting or changing the concept completely. It's just wanting to know better and see better and do even better.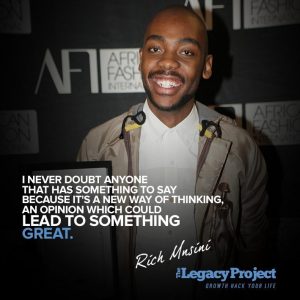 Critical Skills I Develop | I wouldn't push it as far as using the word success. However referring to the journey, I would say always trying to teach myself new things and thinking of what's not immediate but could still be a good fit.
 Performing At My Peak | Being strict towards how my vision comes to life, from who works on it, to the craftsmanship up until the last day of revealing it to the masses. I am involved in every single step of the process and the brand is still new and fresh, thus it needs extra care and attention to ensure it does not lose the little it has built.
Resources I Use To Stay Inspired | Almost every source of stimulation I absorb inspires an idea or a situation. I do look to 90s movies and the new alternative electro pop musicians such as FKA Twigs for some energy. My inspiration also includes a lot of culture and subcultures to blend the story together so it resonates with the customer.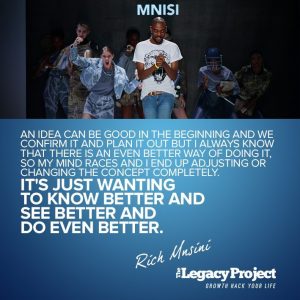 Advice On Building Wealth | Financial wealth is a different story. I don't think anyone can answer that question unless their willing to journey into unorthodox experiences. The best way, however to get there, would be through passion and doing what gets you to your most fulfilled state. In that way, you enjoy making the effort to acquire the money. It might be a perfect situation.
On Inspiring Others | Make the right friends who understand what you aspire to achieve and listen to what they have to say regardless of how obscure their ideas may be. I never doubt anyone that has something to say because it's a new way of thinking, an opinion which could lead to something great.