Lara began her career as a host on SABC 1's daily interactive show, YOTV. After school she attended Wits University to study drama where she focused on acting, physical theatre and musical theatre. Her first stage production as a professional actress was her own one-woman show, an adaptation of My Uncle Oswald. Her most recent role was in the local adaption of Emotional Creature: the secret life of girls around the world, an award-winning play by Eve Ensler – perhaps best known for The Vagina Monologues. Also a talented writer, 10 months ago Lara launched her own webseries called Chin Up!(soon to be redeveloped), a mockumentary based on her real life experiences  as an actress in Johannesburg. Lara has another Fugard production lined up as well as numerous other projects. It's safe to say that Lara Lipschitz isn't slowing down anytime soon!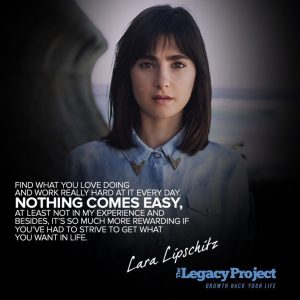 My Definition of Success | Success for me is a feeling of deep satisfaction and accomplishment in myself and my career. I think I have always known that it's not about wealth or fame, but rather a joy in doing what you love and receiving positive feedback from it.
I Am Driven By | I need to be productive in my life and I feel that I have so much to offer the world by doing what I love, that if I don't do it, it will be a waste. I'm driven by my desire to feel at ease, to feel good about myself and my achievements.
My Highlights | I'm most proud of the work I did in Eve Ensler's "Emotional Creature" which is a beautiful and brave feminist play based on true stories from girls dealing with real life issues, like rape, teenage pregnancy and bullying and how to overcome them. It taught me so much about myself and the world and it made me very proud to play a part in creating awareness and change. The second highlight of my career so far has got to be playing Daphna in "Bad Jews", which is currently running at the Sandton Theatre on the Square. To have the opportunity to play a role that is so complex and passionate is rare and greatly appreciated.
A Key Talent |I love working hard at what I'm passionate about, but I would never be good at something I wasn't interested in. When it comes to acting I get so excited about learning lines and researching my character etc that I am prepared to work really hard. My advice would be; find what you love doing and work really hard at it every day. Nothing comes easy, at least not in my experience and besides, it's so much more rewarding if you've had to strive to get what you want in life.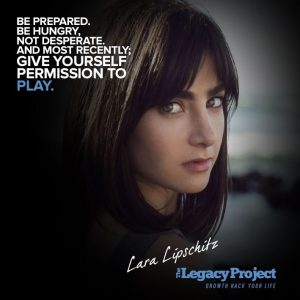 Principles I Live By | Be sincere and honest with yourself and others, with a large amount of tact of course. Be brave and put yourself on the line.
How I Use My Mind | I believe in the power of setting goals and visualizing achieving them. It helps to have an end game in mind and then work backwards in terms of taking the steps that lead to that goal. So I would say clarity of desire and action are the keys to success.
Lessons I Have Learnt | As an actress, rejection is a huge part of the business. It can be difficult not to take it personally and to keep working towards your goal of being a successful performer. Something I have learnt along the way is that the jobs you don't book were never yours to begin with and the jobs you do book were always yours. This belief/lesson gives me comfort in that not every job you audition for is meant for you and there is more than enough to go around. The jobs you do get will take you where you need to go.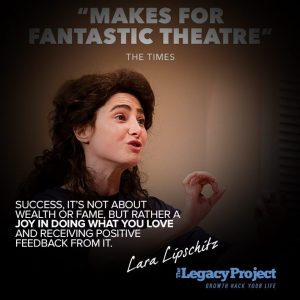 Performing At My Peak | I make sure I do all the basic things like sleep well, eat healthy meals, exercise and drink lots of water. I have always loved being as fit and active as possible.
Best Advice I've Received | Be prepared. Be hungry, not desperate. And most recently; give yourself permission to play. In other words; give yourself permission to fail, fall or look foolish.
Useful Links |