Louis Minnaar forms one half of Albino Creations, with Werner Burger. Their amazing collaboration allows them to tackle animation, illustration and design work, and from what we can see, there is no shortage of magnificence in their work. They see beauty in things that ordinarily seem odd, and this gives them their explicit uniqueness. From album designs, to label design, to animated adverts and more. Louis has also been producing work which led him to start up his own production company, Louis Minnaar Creative Visual Design. He is also a member of Bittereinder, the most eloquent electro pop trio in South Africa.
My Definition Of Success | I have absolutely no idea what it means, as I have never felt like I have achieved any specific amount of success. If it means reaching little milestones, then I guess I have had some successful moments. However the idea that there is this end destination where I will feel like "I have made it" is quite depressing to me. I never want to get to a place where I feel like I have made a huge success – it would only take away all the tension in the story line of my career.

I Am Driven By | The need to finish a good project. I love creating and I love the process of getting to a finished product but most of all I love the finished product and feeling like I have gotten something out of my system.
My Highlights | Apart from overcoming a lot of fear by doing some public speaking at a couple of design conferences in South Africa and the Netherlands, I have to say that performing in front of a crowd of around 20 000 dancing people at Oppikoppi with my 2 best friends (Peach and Jaco in our band, Bittereinder) has to be one of those highlights.
A Key Talent | One thing that I have been told I am good at is the ability to work really fast. This has lead me to be able to focus on multiple creative disciplines and roll out quite a lot of work. I know a lot of people like to spend more time on one thing and really crafting it, but I think there is a lot of value in being able to do creative things really quickly and churn out more creative content. This is not a skill that I can relay very well. I guess it has to do with a lot of practice and time management.
Principles I Live By | I believe that we can all build an amazing world to live in, if we start serving others and not just ourselves. I think selfishness is a characteristic that I hate most in myself and the world. I can only imagine that the world will be an amazing place if everyone starts serving each other in love and respect.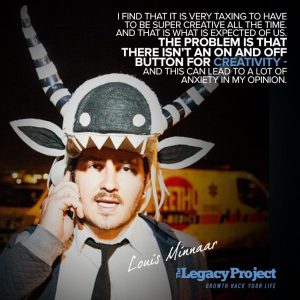 Lessons I Have Learnt | I am still quite young, but so far I have learnt that life is bigger than work. I love being creative and I love working, but in the end I love having a meaningful conversation with my wife, or spending time with my dog, or eating something messy without having a napkin- more than working in an office.
Dealing With Doubt | I think almost any creative person struggles with self-doubt and fear at some or other point in his/her career. It's only natural. I find that it is very taxing to have to be super creative all the time and that is what is expected of us. The problem is there isn't an on and off button for creativity – and this can lead to a lot of anxiety in my opinion.
Performing At My Peak | I don't believe I have ever performed at my peak. I think there is great potential in humans and we only tap into a small part of what we are capable of. That being said, when I don't exercise (cycle) and sleep properly, I tend to lose focus real quick.

The Best Advice I've Received | To take it one baby step at a time. It's so easy to get overwhelmed with all the projects, expectations, obligations and all the clutter in our day to day. I find that anxiety for the future is something that can kill creativity. I like the idea of taking little steps in one direction. It keeps me focused on one thing at a time and gives me energy for all the other million things.
Advice On Building Wealth | Don't become an artist :).